Agenda Announced for 2023 CCTS Spring Conference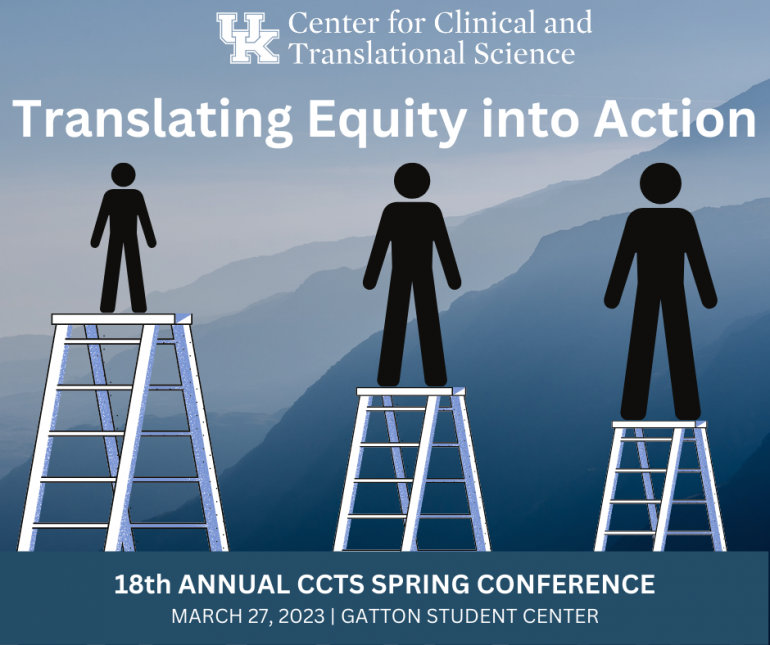 LEXINGTON, Ky. (March 6, 2023) – The UK Center for Clinical and Translational Science (CCTS) has announced the agenda for its 18th Annual Spring Conference: Translating Equity into Action, which will be held Monday, March 27 from 8 a.m. to 5 p.m. in the Gatton Student Center.
You're invited to join hundreds of faculty, staff, students, and community members for this multidisciplinary event. Registration is free and open to all, but please register by March 20 so that we can determine an accurate head count for lunch.
Morning Keynote: "What's Tuskegee Got to Do with It: Trust, Trustworthiness and African Americans," presented by Vanessa Northington Gamble, MD, PhD, professor of medical humanities, health policy and American studies, and medicine at George Washington University
Lunch Keynote: "An Exploration towards the Mindset of Equity," presented by David Butts, MA, CDE, the diversity, equity and inclusion officer at Bluegrass Care Navigators
Biomedical Informatics Research Day Keynote: "EHRs in an Era of Precision Medicine," presented by Justin B. Starren, MD, PhD, FACMI, director, Instituted for Augmented Intelligence in Medicine, Center for Biomedical Informatics and Data Science; chief of health and biomedical informatics in the department of preventive medicine; professor of preventive medicine (health and biomedical informatics) and medical social sciences at the Northwestern University Feinberg School of Medicine
Dissemination & Implementation Science Mini-Symposium Keynote: "Pursuing Health Equity through Implementation Science in Cancer Prevention Research," presented by Prajakta Adsul, MBBS, MPH, PhD, assistant professor of internal medicine at the University New Mexico College of Health Science
Oral Presentations and Poster Sessions

CCTS
Biomedical Informatics Research Day
College of Dentistry Research Day
College of Health Sciences Research Day
College of Nursing Scholarship Showcase
College of Public Health Research Day
Dissemination & Implementation Science Mini-Symposium

Von Allmen Center for Entrepreneurship "60-Second Poster Pitch" Competition
Frederick Douglass High School Students' Poster Presentations
Breakout Sessions, including

Clinical Studies to Impact Equitable Health Outcomes
Efforts to Advance Equity
Forging Inclusive Pathway Programs
The detailed agenda can be found on the conference website.