14th Annual CCTS Spring Conference Draws Nearly 1,000 Participants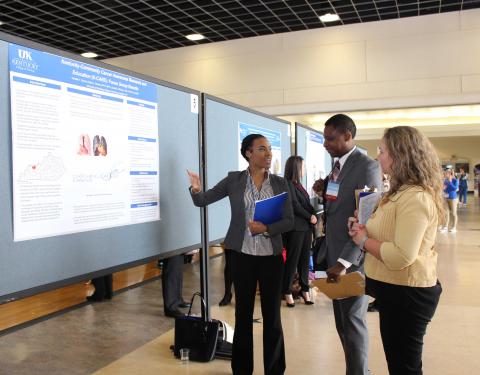 The 14th Annual CCTS Spring Conference was held Monday, April 15 and focused on "The Science of Health Policy & Systems Change".
Nearly 1,000 researchers, clinicians, students, trainees, community partners, and local and national experts participated in the day-long, multidisciplinary event to share findings, disseminate best practices, enhance collaborations, and mentor the upcoming generation of translational researchers.  We also hosted more than 300 poster presentations.
Listen to an interview with plenary speaker Frank Chaloupka, PhD. » 
CCTS Membership: Have You Joined Yet?
To more efficiently offer services and resources to investigators, we have transitioned to a membership model. Membership is free, signing up takes just 60 seconds, and the form is auto-completed by using your Linkblue ID.  This membership model allows us to better manage and track service requests without significantly changing the experience for researchers requesting services.
We look forward to continuing to work with you! 
Measuring Our Impact
$49.9m
Sponsored Project Dollars Supported by CCTS in FY16
14:1
Return on Investment of Pilot Funding Program 
3,380
In-Patient, Out-Patient, and Off-Site Clinical Research Encounters in FY17