The goals of the CCTS are to accelerate translational research, collaborate with communities to address health disparities, develop the translational science workforce, and partner with the national research network to achieve the greatest possible impact for improved health. Explore the impact of our work below. 
 
Last updated: September 2018
---
National & Regional Reach
Connecting Academic & Community Partners Across 15 States 
The UK CCTS not only serves as a hub for translational health research across Central Appalachia but also collaborates with partners across 15 states. We know that leveraging our collective strengths and sharing our knowledge, experiences, and resources is the only way to affect impactful, equitable improvements in health. 
See a full list of our collaborations and partnerships. 
National Partnerships
The UK CCTS collaborates with national research networks including the Appalachian Translational Research Network, of which we were a founding member, and the Western States Consortium, which we joined in 2016. We also collaborate with other academic medical centers and CTSA recipients on projects related to informatics and biobanking. More details about our partnerships are available here.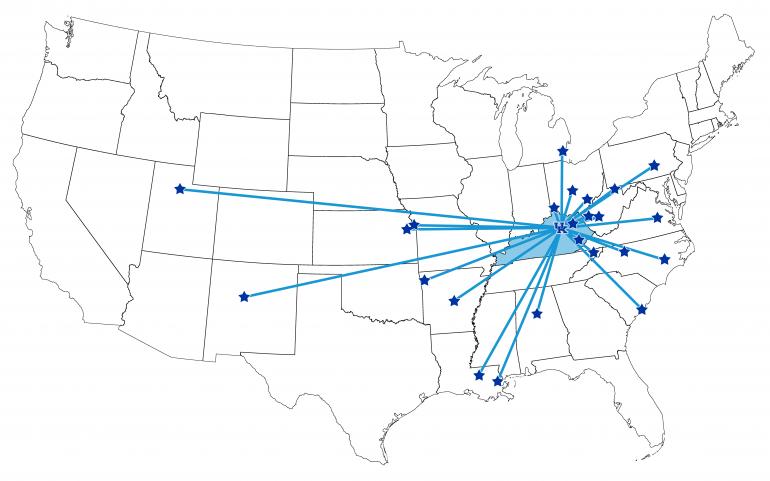 Connecting Across Central Appalachia 
The map below reflects Appalachian counties that have been impacted in any way by CCTS services and programs, including the Community Leadership Institute of Kentucky, CCTS community seed grants, CCTS Field Offices, the Kentucky Research Registry and Biospecimen Bank, and pilot grant research. 
The blue dots represent our partners in the Appalachian Translational Research Network, of which the UK CCTS is a founding member.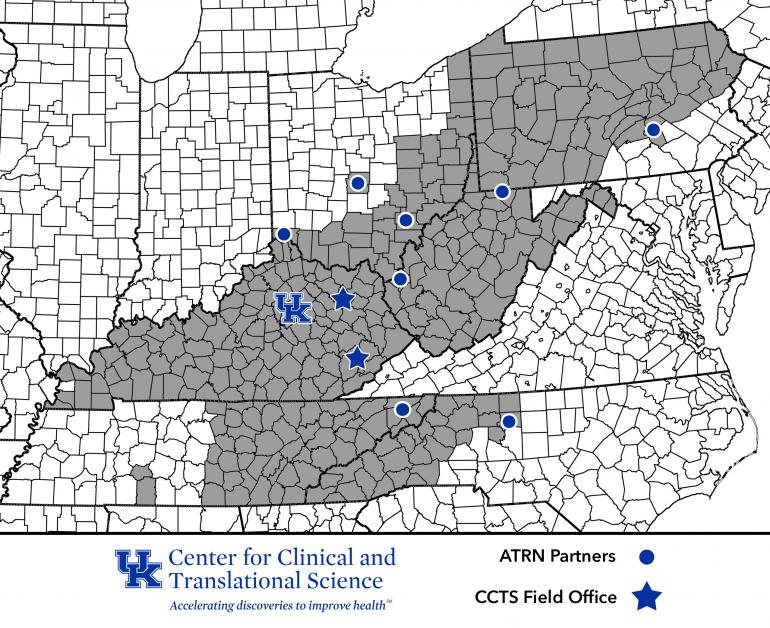 ---
Impactful Funding & Awards
14:1
ROI
in Subsequent NIH Funding for Pilot Grant Awardees 
$44.9
million
Active Sponsored Project Dollars Supported by CCTS in FY16
$269.3
million
Proposed Sponsored Project Dollars Supported by CCTS in FY16
The UK CCTS Pilot Funding Program stimulates innovative science to accelerate improvements in health. Our funding prioritizes multidisciplinary research and projects that focus on health disparities, particularly in Appalachia.
---
Engaging with Our Communities
25
Appalachian Counties Impacted
22
Graduates
of the Community Leadership Institute of Kentucky
19:1
ROI on Appalachian Translational Research Network Grants
Brittany Martin CLIK Recipient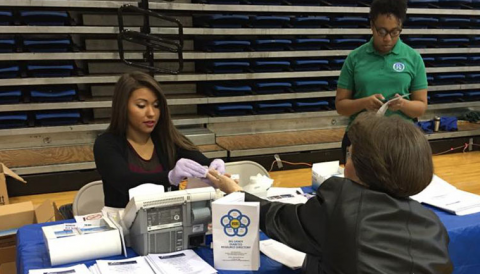 Brittany Martin, CLIK '17, developed a community-based screening program for diabetes, and personally screened nearly 2000 people in Perry and Hazard Counties.
Focus on Health Disparities & Special Populations
45.8%
of CCTS Service Requests Related to Health Disparities
42.8%
of CCTS Service Requests Related to Special Populations
29%
of CCTS Pilot Awards Related to Health Disparities or Special Populations
Influential Publications: Field-Weighted Citation Impact of 1.59
A notable finding in scholarship tracking emanated from the implementation of SciVal at the University of Kentucky, which was partially supported by the CCTS, and driven by the Tracking and Evaluation (T&E) Core in conjunction with the Office of the Vice President for Research.   The T&E Core examination of bibliometric indicators for CCTS pilot program awardees between 2012 and 2017 indicated robust publication productivity among this group, and a Field-Weighted Citation Impact of 1.59, indicating that publication outputs have been cited 59% more often than expected, a robust indicator of influence. See selected recent publications here. »
---
High Quality Services
89
percent
Respondents Satisfied with Overall Quality of CCTS Services*
1343
Four Year Average Inpatient Visits
346
BERD Projects Supported in FY17
Empowering the Process of Discovery

The CCTS offers a broad spectrum of services and resources to support research from study design to study close-out. 

 

* Data based on a Satisfaction Survey launched in March 2018 to solicit feedback from investigators that had used CCTS services within the last 2 years, and achieved a response rate of 15.5%.    
---