The University of Kentucky Center for Clinical and Translational Science (CCTS) unites clinicians, researchers, and communities to accelerate the translation of basic science discoveries to tangible improvements in health, with particular focus on Appalachia. 
Founded in 2006, we've received two Clinical and Translational Science Awards from the National Center for Advancing Translational Science at the National Institutes of Health. 
Our live Data Portal is coming soon – stay tuned!
---
National and Regional Partnerships
The UK CCTS collaborates with CTSA institutions, academic medical centers, regional hospitals, and community partnership across the country and through Appalachia, including serving as a founding member of the Appalachian Translational Research Network (ATRN). 
In Central Appalachia, we partner with academic medical centers in the Appalachian Translational Research Network, hospital systems, the UK Markey Cancer Research Network, and numerous community organizations to address health disparities and promote wellbeing. 
---
Impactful Funding & Awards
15:8
ROI
in Subsequent NIH Funding for Pilot Grant Awardees 
14.3:1
ROI
on Pilot Grants Related to Substance Use Disorder
17.7:1
ROI
on Pilot Grants from the Appalachian Translational Research Network
The UK CCTS Pilot Funding Program stimulates innovative science to accelerate improvements in health. Our funding prioritizes multidisciplinary research and projects that focus on health disparities, particularly in Appalachia.
---
Engaging with Our Communities
41
Participants
of the Community Leadership Institute of Kentucky
28
Appalachian Counties Impacted by the Community Leadership Institute of Kentucky
17.7:1
ROI on Appalachian Translational Research Network Grants
Brittany Martin CLIK Recipient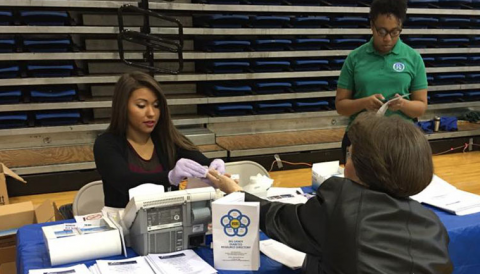 Brittany Martin, CLIK '17, developed a community-based screening program for diabetes, and personally screened nearly 2000 people in Perry and Hazard Counties.
Focus on Health Disparities & Special Populations
54%
of CCTS Service Requests Related to Health Disparities in 2019
31.7%
of CCTS Service Requests Related to Special Populations 2018-19
29%
of CCTS Pilot Awards Related to Health Disparities or Special Populations
Inclusive Research, Inclusive Improvements in Health
The UK CCTS is committed to addressing the health disparities of Central Appalachia and affecting equitable, inclusive improvements in health. Learn more about our Community Engagement and Research Core and our Integrated Special Populations Core.  
The metrics above are based on data extracted from CCTS Service Request Forms.  Health disparities include cancer, diabetes/obesity, cardiovascular disease/stroke, and substance use disorder. Special populations include aging/elderly, pediatric, rural/Appalachia, under-represented minorities, disadvantaged backgrounds, and LGBTQ.
---
Influential Publications: Field-Weighted Citation Impact of 1.59
A notable finding in scholarship tracking emanated from the implementation of SciVal at the University of Kentucky, which was partially supported by the CCTS, and driven by the Tracking and Evaluation (T&E) Core in conjunction with the Office of the Vice President for Research.   The T&E Core examination of bibliometric indicators for CCTS pilot program awardees between 2012 and 2017 indicated robust publication productivity among this group, and a Field-Weighted Citation Impact of 1.59, indicating that publication outputs have been cited 59% more often than expected, a robust indicator of influence. See selected recent publications here. »
---
High Quality Services
89
percent
Respondents Satisfied with Overall Quality of CCTS Services*
1343
Average Annual Inpatient Visits
Empowering the Process of Discovery

The CCTS offers a broad spectrum of services and resources to support research from study design to study close-out. 

 

* Data based on a Satisfaction Survey launched in March 2018 to solicit feedback from investigators that had used CCTS services within the last 2 years, and achieved a response rate of 15.5%.    
---