Community Grant Recipient Uses Personal Health Journey to Help Others Prevent Diabetes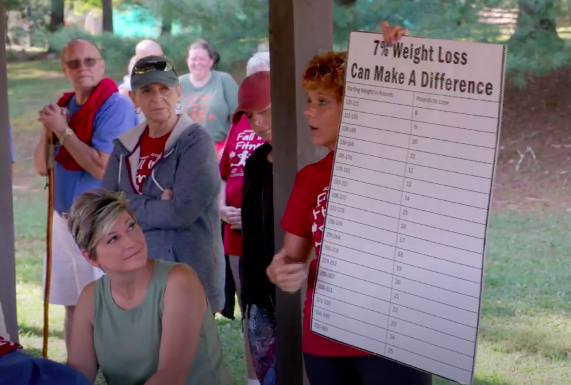 PAINTSVILLE, Ky. (May 14, 2020) — At age 57, Mary Beth Castle learned that she was pre-diabetic. She had witnessed her father's and siblings' struggle with diabetes and was determined to avoid the same outcome. The stark information about her risk for diabetes motivated her to change her life: She lost 81 pounds by adjusting her eating habits and increasing her physical activity, at first walking slowly, eventually jogging and finally running a few miles each week. Her mental health drastically improved, too.
"I wanted to make changes for my health," Castle said. "It took about 10 months, but I made changes in food and physical activity. I didn't want to be a type 2 diabetic. I didn't feel good. I didn't have energy. And I didn't like what I saw in the mirror. So something had to change."
After radically transforming her health and retiring from 33 years as a public school teacher, Castle turned her personal experience into a new career as a Community Health Educator for the Johnson County Health Department. Her own health journey not only fuels her passion for community-based diabetes education and prevention but also provides living proof to others that they too have the power to improve their wellbeing.
Through the "Fall into Fitness" walking and diabetes education program that she leads, Castle has reached hundreds of her fellow community members, facilitating diabetes screening and education events. When old sources of funding for the program disappeared, she learned about the Community Seed Grant program through the University of Kentucky Center for Clinical and Translational Science. Their grant of $2,500 allowed Castle to keep the program alive and growing, with around 100 participants per walk, up from 35 participants in past years. The CCTS Participant Recruitment Service also provided support by developing recruitment advertisement materials.
 

At each Fall into Fitness event  four per year), participants get their A1C levels checked, go for a walk together (signs with diabetes information are placed along the path) and then everyone reconvenes for raffle giveaways and A1C results. The A1C tests are conducted through a partnership with the Big Sandy Diabetes Coalition, also a previous CCTS Seed Grant recipient.
"A lot of people are pre-diabetic and have no clue that they are," Castle said. Others, meanwhile, might suspect they are pre-diabetic but are scared to find out for sure.  "This event is a great opportunity to bring the community in to have their A1C checked, and then before everyone leaves they know their A1C."
Castle personally follows up with each participant whose A1C level indicates they are pre-diabetic, calling to invite them to the free Diabetes Prevention Program (DPP) she runs.
"It's a very important program and very dear to my heart. When I sit in a DPP class, I can understand exactly where people are coming from because I've been there and I've done that. I've been extremely overweight. I've been told I'm pre-diabetic and that if I don't make changes in my health and weight I was destined to be a type 2 diabetic," Castle said. "I tell people, 'Your health has to become a priority. That's what I did. I made my health a priority, and if I can do it, anyone can—I'm 57! I know how hard it is to make yourself move, but I promise if you stick with me in this program you'll be so much happier.'"
To ease participants into more movement, she offers feasible, accessible ideas for physical activity, like walking during commercials or doing gentle chair yoga; she avoids the word "exercise" which she says has a negative connotation for some folks.
Castle is especially aware of the many pressures on women that make it difficult for them to prioritize their own health, as well as the enduring stigma around mental health. She hopes that the Fall into Fitness program will empower and validate women to prioritize their own wellbeing in ways that benefit them physically and psychologically.
"Physical and mental health — you can't separate them. My mental health did a 180 once my physical health became better. Even my husband says 'You're not the person you used to be.'"
Ashley Hall, who oversees the CCTS Seed Grant Program, says Castle's work epitomizes the mission of empowering local leaders and solutions for health.
"Mary Beth is a testament to taking charge of your own health and making a difference in the lives and health of others in your own community. She is a true inspiration for everyone she works with, trying to get people physically active and give them a better understanding of their health. Many people do not realize they are pre-diabetic or how their lifestyle and personal choices might impact their health and overall wellbeing. Mary Beth's work is educational, it is building bonds between people in the community, and it is helping to improve their lives."
Media Contact: Mallory Powell, mallory.powell@uky.edu