Five Questions with the New Co-director of DREAM, Dr. Brittany Smalls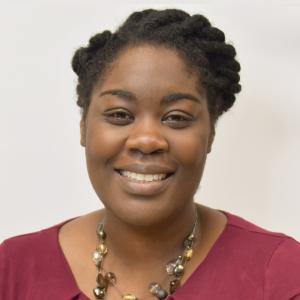 LEXINGTON, Ky. (Aug. 29, 2022) – The UK Center for Clinical and Translational Science is pleased to welcome Brittany Smalls, PhD, MHSA, as co-director of the Disparities Researchers Equalizing Access for Minorities (DREAM) Scholars Program.
Dr. Smalls is an assistant professor in the UK Center for Health Services Research and College of Medicine. She was also a member of the inaugural DREAM Scholars cohort. Dr. Smalls' research interests include health disparities, global health, and social determinants of health within the confines of complex chronic illnesses.
Before coming to UK, she was a senior project manager at Brigham and Women's Hospital's Center for Surgery and Public Health and a member of faculty at Massachusetts College of Pharmacy and Health Sciences. Dr. Smalls earned her Bachelor of Science in anthropology from the College of Charleston, a Master's in Health Services Administration from Strayer University, and a doctorate in Health and Rehabilitation Science with a concentration in Health Services Research from the Medical University of South Carolina.
We're thrilled to bring her passion and expertise to the DREAM team!
What was your experience as a DREAM scholar like? How did it impact your work and career?
I was first exposed to health disparities and health inequities research as an undergraduate research intern. Since then, I have committed myself to gaining knowledge and experience that will allow me to identify and address health disparities and inequities that affect vulnerable and marginalized populations.
As such, being part of the inaugural DREAM Scholar cohort, then under the leadership of Dr. Jenna Hatcher, was an easy decision for me. My participation in the program came soon after I joined the UK College of Medicine faculty from a different institution. My involvement as Scholar helped me understand the unique challenges of Kentucky communities and identify populations who are disproportionately impacted by various health issues. The program afforded me the opportunity to meet and collaborate with likeminded investigators at various career stages that complemented my own skillsets and interests.
My involvement as a Scholar was crucial to me getting my footing in a new environment, finding quality mentors, identifying a core groups of collaborators, and cultivating the confidence I needed as a junior investigator to create a career trajectory that is meaningful to me. Looking back at this experience as a tenured associate professor in the College of Medicine, I believe the DREAM Scholar program was an invaluable experience and has contributed to my success thus far in academia. 
 
How does it feel to now be on the leadership side of this program?
I have mixed feeling about being a leadership role but all of the feelings are good! I think being a former Scholar helps me understand what was and wasn't helpful, things that I wish I had encountered during my experience, or how an experience could be enhanced. I want the best for the Scholars and want to make sure their needs are met because of how valuable the experience was to me. I want to create an equally meaningful experience for all the Scholars.
 
What are your priorities as co-director DREAM program?
My primary priority is to put forth a program that is meaningful to DREAM Scholars. I want Scholars to find their footing, solidify their purpose, and have a sense of belonging from the first time they engage with me and the other program leaders. From that point on, I want Scholars to know that we are their biggest cheerleaders but we will also push them to challenge themselves as researchers and their hone interpersonal and professional skills. Being in academia is more than writing grants, publishing papers, and conducting research. I feel like it is a privilege to be part of the dynamic process of cultivating well-rounded individuals who happen to do health disparities and health inequities research well. I love being part of this process!
Do have any advice for up and coming health disparity researchers?
I would say, "What you are doing, your passion, is important. There are people who are suffering who are depending on you, whether or not you realize it on a daily basis. We do this to help those who do not have the resources or ability to help themselves. And, don't be discouraged by the obstacles you will face! Those obstacles build perseverance and character, and can be the source of innovation."
 
What research are you working on in your own career right now?
My primary research interests include rural health, aging/older adults, and chronic disease management. I tend to focus on how to address social environmental determinants of health that contribute to health disparities and inequities in primarily rural communities, and leverage local social support networks to facilitate healthy behavior change at the individual-, family-, and community-levels.