CCTS Data Warehouse Supports Award-Winning Research on Impact of Employer-Sponsored Community Supported Agriculture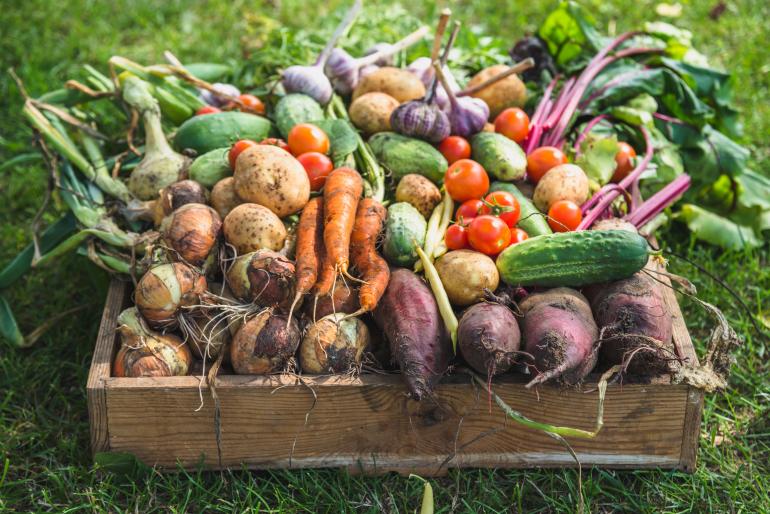 Researchers at the University of Kentucky have been studying the health impact of offering vouchers to employees for Community Supported Agriculture (CSA) shares, which provide weekly bundles of fresh produce. Supported by research design and data assistance from the Center for Clinical and Translational Science (CCTS) Biomedical Informatics Core, the CSA voucher program recently received the HR Innovation Award from the College and University Professional Association for Human Resources.
The innovative program launched in 2016 as a pilot study between the UK Human Resources Health and Wellness Office and the College of Agriculture, Food, and Environment's Department of Agricultural Economics. With fewer than 100 participants in the first year, the program has evolved into a lottery system due to overwhelming demand, with 470 participants in 2019.
In order to quantify the health and lifestyle impacts of the CSA program, a recent study investigated changes in medical claims data for individuals involved in the CSA pilot program.  The research demonstrated that new and long-time CSA subscribers exhibited increased consumption of produce and decreased processed food consumption. Participants increased their vegetable consumption by nearly two servings per day and averaged more than 0.5 fewer non-wellness/preventive visits per year to doctors' offices or health clinics. Those who considered themselves in a lower health condition saw the largest improvements, with statistically significant medical savings. Initial estimates showed that every dollar UK spent on the CSA benefit resulted in savings of $2.47 in medical expenditures. Backed by this research, the CSA voucher program received the 2019 HR Innovation Award from the College and University Professional Association for Human Resources. 
This study was possible because the researchers had access, via the CCTS Biomedical Informatics Core, to UK Healthcare claims datasets that include medical and pharmacy claims before and after CSA participation. Darren Henderson, database administrator for the CCTS, explained that this particular database houses information on diagnoses, procedures, and prescriptions for all UK employees who purchase their insurance through the university.
"Access to this data set is significant because the university has a wonderfully diverse employee population, and our employees utilize their healthcare", Henderson said, which make the data a great asset when evaluating the impact of university-wide policies.
Jairus Rossi, PhD, assistant research professor in the UK College of Agriculture, Food, and Environment, articulated the value of CCTS support for demonstrating the impact of the CSA voucher program.
"The CCTS assisted our research team in designing a study to understand the potential benefits of participating in Community Supported Agriculture programs.  With their help, we were able to compare medical and pharmacy expenditures for participants in a CSA program before and after participation.  While our econometric model is still being refined, we have identified some significant decreases in medical expenditures for subpopulations of the CSA participant group compared to a control group.  As this type of analysis is in great demand for organizations who fund CSA workplace programs, we are thankful that we have the CCTS to guide use through many aspects of the data acquisition process.  They make all of this work possible." 
Richard Amos, the Chief Benefits Officer at the University of Kentucky, also emphasized the importance of the innovative collaborations that enabled this CSA research.
"Many people work diligently behind the scenes to provide valuable, approved, and 'safe to use' data for the purpose of research. The intent of research is to aid, improve, help, make better and inform on important matters of life. Without our professionals at UK's Center for Clinical and Translational Science who support academic research, I am not sure how this could happen."
by Maanasa Manchikanti
Media Contact: Mallory Powell, mallory.powell@uky.edu