CCTS Attends Roots & Heritage, Latino Festivals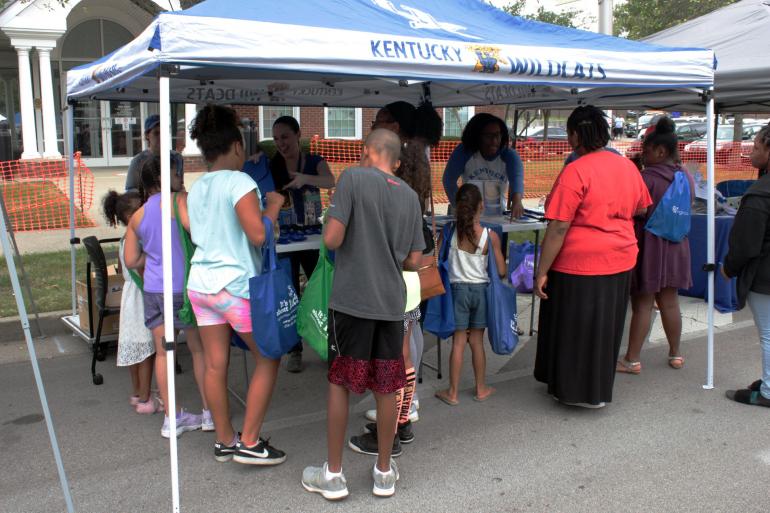 Sept. 17, 2018 (Lexington, Ky.) – Members of the UK CCTS team hosted booths at the Roots & Heritage Festival on Sept. 8 and the Festival Latino de Lexington on Sept. 14-16 to provide opportunities for the community to ask questions about participating in research and learn about getting involved.
Ashley Hall, community engagement manager, Roxane Poskin, participant recruitment manager, and Bryan Sanders, marketing specialist, attended both events. They were joined at the Roots & Heritage Festival by Lateisha Ousley, of the Wellness, Health, and You project, at the Festival Latino by Rosa Martin, of the Corazones Saludables study. 
Poskin, who for many years has attended these and other events to talk about research participation, sees community involvement as an integral part of conducting health research. She said that many people who come up to the booth have previously participated in research and want to know the outcomes. Others are skeptical about sharing health information that might be used for purposes other than the stated research objectives, while some are looking to participate in health studies because they don't have insurance or access to prevention and care.
"The more that UK goes out to the public and shows that we're willing to be there and be involved and talk to them about research studies, the more trust there is in the community. You have to establish trust and have conversations about what their concerns are, and you have to be present to have those conversations," Poskin said. 
Engaging with communities who have historically been underrepresented in research is critical in ensuring that new medical knowledge includes and considers all types of people. 
"We want to find out what works for the individual person, because not every intervention or study is going to produce the same results in different communities and backgrounds. That's really why it's so important to get out there and talk to different groups, especially those who are underrepresented in research, because we need to know how interventions affect them specifically," Hall said.  "And you can't have these bi-directional conversations unless you're talking with people as research partners, and not just as research participants."
To learn more about getting involved in research, visit UKClinicalResearch.com to see opportunities at UK, including the Wellness, Health & You project, as well as opportunities nationwide.
If you'd like for the CCTS team members to attend your event and share information about health research, please contact Ashley Hall at agtayl3@uky.edu.
Media Contact: Mallory Powell, mallory.powell@uky.edu