Nearly 1,000 Participants Attend CCTS Spring Conference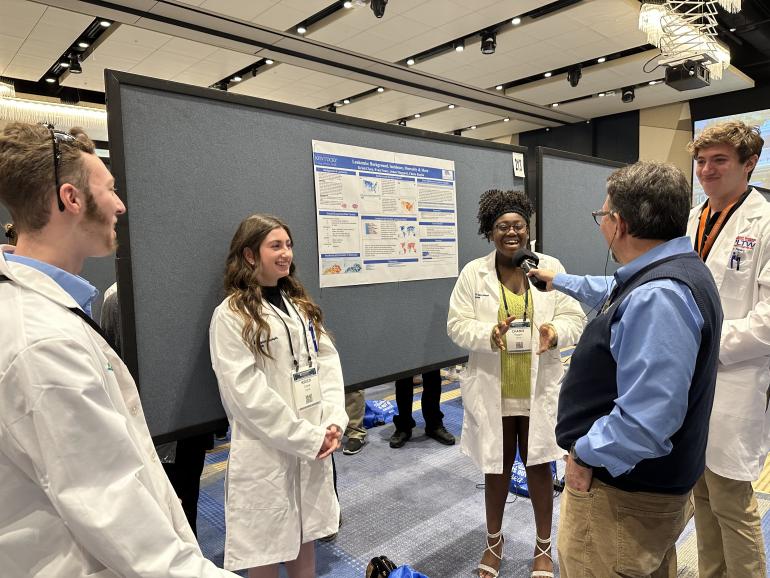 Students from Frederick Douglass High School speak to a radio reporter about their research poster. 

LEXINGTON, Ky. (March 30, 2023) – The 18th Annual Spring Conference of UK Center for Clinical and Translational Science, held March 27, drew nearly 1,000 participants. Clinicians, researchers, trainees, undergraduates, high school students, and community partners gathered to share research and foster collaborations.
The theme of the conference was "Translating Equity into Action." Featured speakers included:
Vanessa Northington Gamble, MD, PhD, University Professor of Medical Humanities and Professor of American Studies at George Washington University: "What's 'Tuskegee' Got to Do with It: Trust, Trustworthiness, and African Americans"
David Butts, MA, CDE, Diversity Equity and Inclusion Officer at Bluegrass Care Navigators: "An Exploration towards the Mindset of Equity"
Prajakta Adsul, MBBS, MPH, PhD, Assistant Professor of Internal Medicine, University of New Mexico College of Health Sciences: "Pursuing Health Equity though Implementation Science in Cancer Prevention Research"
Justin B. Starren, MD, PhD, FACMI, Director of the Institute for Augmented Intelligence in Medicine—Center for Biomedical Informatics and Data Science; Chief of Health and Biomedical Informatics in the Department of Preventive Medicine; Professor of Preventive Medicine and Medical Social Sciences, Feinberg School of Medicine: "EHRS in an Era of Precision Medicine"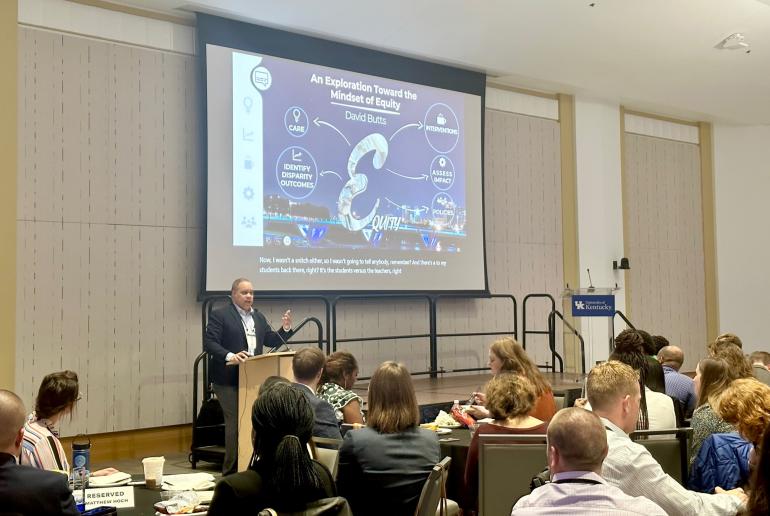 The conference also featured multiple breakout-sessions with a total of 61 podium presentations, and more than 230 posters were presented by faculty and trainees.
For the second year, students from the Frederick Douglass High School's Biomedical Pathways Program attended the conference to share health research they conducted; 54 students presented 18 research posters.
The following research days were also held at the conference:
Biomedical Informatics Research Day
College of Dentistry Research Day
College Health Sciences Research Day
College of Nursing Scholarship Showcase
College of Public Health Research Day
Dissemination and Implementation Science Mini-Symposium
For the sixth year, the UK Von Allmen Center for Entrepreneurship hosted a 60-Second Poster Pitch Competition at the conference. Fifteen people participated in the competition, and cash awards were presented to the following winners:
First Place ($850): Chi Peng, graduate student, "Characterization of Platelets from A Newly Developed Obese Mouse Model: MS-NASH"
Second Place ($600): Annaliese E. Norris, graduate student, "When Good Abstracts Go Bad: Navigating the Pitfalls and Perils of Submitting Your Research"
Third Place ($400): Pegah Safavi, graduate student, "A Wearable Fiber-Free Optical Sensor for Continuous Monitoring of Cerebral Blood Flow Changes During Treadmill Exercise"
Director's Choice Award ($150):  Elizabeth A. Ruschman, undergraduate student, "Financial Toxicity and Healthcare Transitions among Adolescent and Young Adult Cancer Survivors "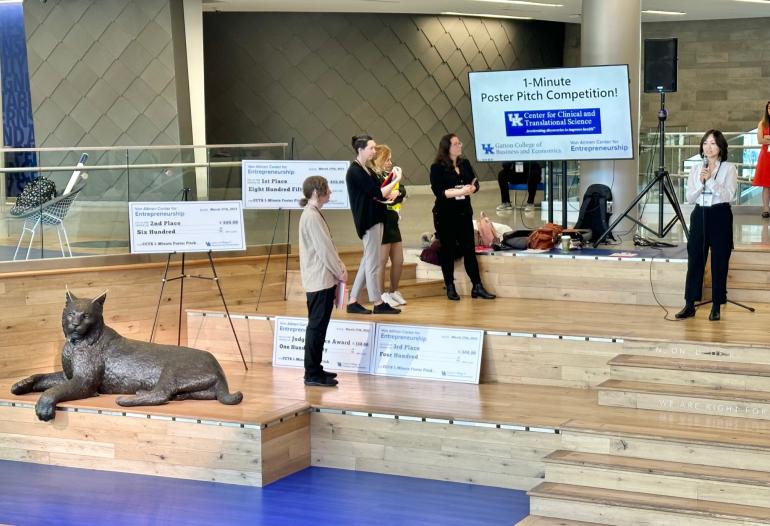 The CCTS Spring Conference also celebrates mentorship, which is integral to training the upcoming translational science workforce. After an open call for nominations, Mentor Recognition Awards were presented to:
Dr. Rachel Farr, PhD, Associate Professor of Arts and Sciences
Dr. Matthew Hoch, PhD, MAT, Associate Professor and Associate Director of the Sports Medicine Research Institute
Dr. Brett Spear, PhD, Professor, Microbiology, Immunology and Molecular Genetics
Dr. Sidney "Wally" Whiteheart, PhD, Professor, Molecular and Cellular Biochemistry
Additionally, the inaugural Gerald Supinski Award for Excellence in Mentoring Award (named in memory of our recently passed colleague who was a tireless advocate for his mentees) was presented to Nancy Schoenberg, PhD, Associate Vice President for Research on Health Disparities, Marion Pearsall Professor of Behavioral Science in the College of Medicine, founding director of the UK Center for Health Equity Transformation, and Associate Director of the CCTS.
A Special Recognition Award was presented to conference chairperson Lovoria B. Williams, PhD, APRN, FAAN, UK College of Nursing Associate Professor, Sally Humphrey Endowed Research Professor in Cancer Health Equity, and Associate Director of the CCTS, for her extraordinary leadership and contributions to translational science, community engagement, and diversity, equity, and inclusion in our field.
"The conference brought local and national health equity thought leaders together who inspired attendees to amply our collective efforts to advance equity. Additionally, the presentations provided opportunities to foster multi-disciplinary collaborations that will synergize and align efforts to implement effective interventions," Williams said.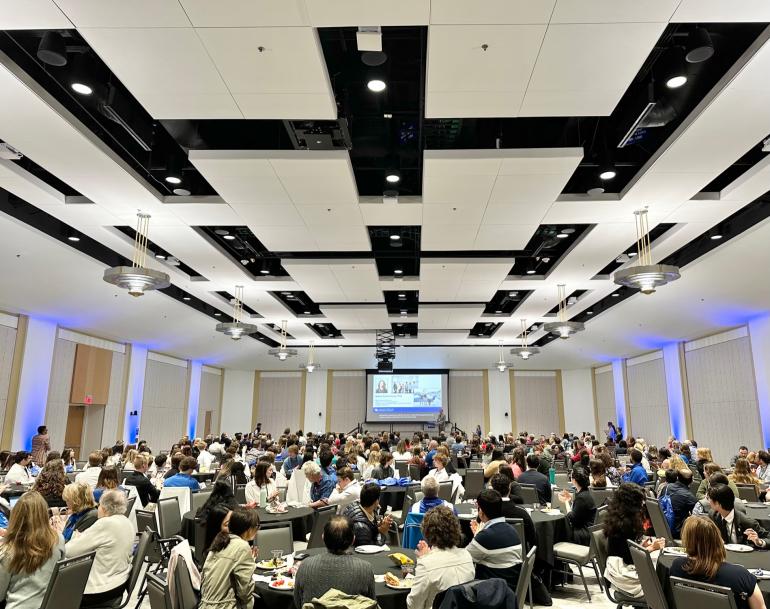 The complete agenda of the conference, including the list of poster presentations, is available here.
Did you attend the conference? Share your feedback!
The conference was also covered by two local media outlets:
Media Contact: Mallory Profeta, mallory.profeta@uky.edu