Mentor Awards, Poster Pitch Winners and More from the 2022 CCTS Spring Conference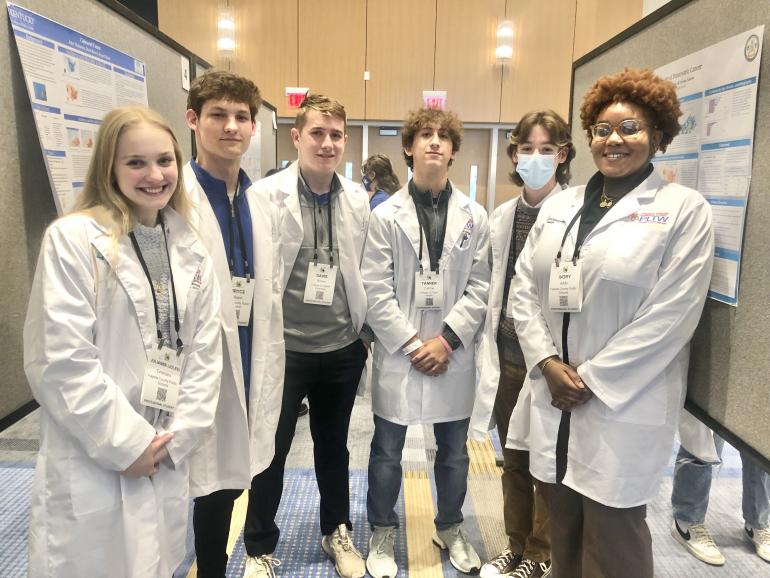 Lexington, KY. (April 25, 2022) – The 17th Annual Spring Conference of the UK Center for Clinical and Translational Science, held April 5, 2022, celebrated mentors, Poster Pitch Competition winners, and young researchers from local Frederick Douglass High School. The event, focused on climate and health, took over the UK Gatton Student Center for the day.
With nearly 800 participants and 200 poster presentations, the conference also featured a keynote address from pioneer of environmental justice Dr. Robert D. Bullard.
A panel discussion about climate and health in Kentucky included William C. Haneberg, PhD, PG, FGSA, state geologist, director of the Kentucky Geological Survey, and UK research professor of earth and environmental sciences; Lala Ma, PhD, assistant professor in UK's department of economics; and Tom "Fitz" Fitzgerald, JD, attorney, adjunct professor of energy and environmental law at the University of Louisville, and founder of the Kentucky Resource Council.
The CCTS would like to congratulate the 2022 Mentor Award recipients. Each year, the CCTS invites nominations for this award to recognize outstanding mentors who make impactful contributions to their mentees' success.
Brian T. Gold, PhD
Mikhail Koffarnus, PhD
Chizimuzo "Zim" Okoli, PhD, MPH, PMHNP-BC, FAAN
Madhumathi Rao, MD
Frederick A. Schmitt, PhD
Teresa M. Waters, PhD
We'd also like to congratulate recipients of the 2022 Special Recognition Awards, presented to individuals how've made indelible contributions to clinical and translational science, research, and education here at UK:
Gia Mudd-Martin, PhD, MPH, RN, FAHA, CCTS Director of Community Engagement and Research; Associate Professor and Dr. E. Vernon Smith, Bertice Henry Smith & Bertice Harold Smith Professor in Nursing Research
Gerald Supinksi, MD, Multi-PI CCTS KL2 Program; MD/PhD Program Mentor, and Vice Chair of Research, Pulmonary Critical Care and Sleep Medicine
We also want to recognize the (cash prize!) winners of this year's Von Allmen Center for Entrepreneurship 60-Second Poster Pitch Competition:
First Place ($750): Sydney Gordon, UK Center for Oral Health Research, "Anti-inflammatory properties of functionalized mesoporous silica nanoparticles loaded with quercetin"
Second Place ($500): Jennifer Castle, MD, Department of Surgery, UKHC/Markey Cancer Center, ""Inhibition of de Novo and Salvage Pathways for dNTP Synthesis Enhances Sensitivity to Ionizing Radiation in Pancreatic Neuroendocrine Tumor Cells"
Third Place ($250): Samaneh Rabienia Haratbar, UK Department of Biomedical Engineering, "A Machine Learning Approach for the Prediction of Retinopathy of Prematurity (ROP) in Preterm Infants"
Judges' Choice Award ($100): Mehrana Mohtasebi, UK Department of Biomedical Engineering, "Noncontact Optical Assessment of Disrupted Cerebral Functional Connectivity in a Piglet Model of Transient Ischemic Stroke"
An extra special thanks goes to our youngest presenters, students from Frederick Douglass High School's Biomedical Pathways Program.  More than 50 students from the local high school presented their original research posters focused on different aspects of cancer. They students also toured and met with researchers from UK's Markey Cancer Center.

This inaugural collaboration between FDHS and the UK CCTS was spearheaded by Dr. Amanda Ellis, assistant professor of biostatistics in UK's College of Public Health, Jennifer O'Brien at FDHS, and Kelsey Carter Stay tuned for more news about this partnership!
The conference would not have been possible without the efforts of the CCTS staff and all our partners, as well as the leadership of conference chairpersons Erin Haynes, DrPH, MS, associate director of the CCTS and Kurt W. Deuschle Professor of Preventive Medicine and Environmental Health and Chair of the Departments of Epidemiology and Preventive Medicine and Environmental Health in the UK College of Public Health; and William C. Haneburg, PhD, PG, FGSA.
The 17th Annual CCTS Spring Conference was held in conjunction with the College of Dentistry Research Day,  College of Nursing Scholarship Showcase, College of Public Health Research Day and the College of Health Sciences Research Day.

A very special thank you to our co-sponsors presenting this year's Distinguished Keynote Speaker: Appalachian Center & Appalachian Studies, Center for the Environment, Center for Health Equity Transformation, College of Nursing, College of Public Health, Department of Earth and Environmental Sciences, Kentucky Geological Survey Kentucky Water Resources Research Institute, Tracy Farmer Institute for Sustainability & Environment, UK-CARES, UK Superfund Research Center, and the UNITE RPA. 
Media Contact: Mallory Profeta, mallory.profeta@uky.edu