Five Questions with Robert Bell, Inaugural Diversity and Inclusion Coordinator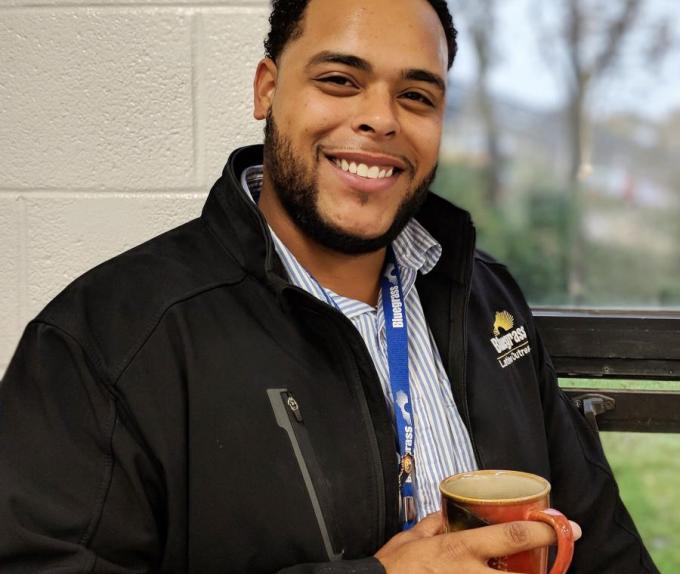 LEXINGTON, Ky. (Aug. 30, 2022) – The UK Center for Clinical and Translational Science is pleased to welcome Robert Bell, MA, as its inaugural Diversity and Inclusion Coordinator, a member of our growing Integrated Special Populations team.
In this new role, Bell will support the SPARK and DREAM programs, liaise with the Community Advisory Board, review and compile relevant DEI training for CCTS faculty and leadership, collaborate with program managers on DEI services, represent UK at community functions and more.
Bell grew up in Winchester, Ky. and studied Spanish and psychology at Morehead State University. He earned a master's degree in linguistics from UK, specializing in areas of sociolinguistics including language variation, Creole languages and language attitudes.
We're excited that Bell has brought his passion and skills to the CCTS!
Your master's degree is in linguistics. What got you interested in linguistics, and what did you focus on in your thesis?
I took up an interest in languages when I was a freshman in high school. One of my good friends was a Cuban kid and being at his house around his family really made me want to learn and understand Spanish. In college, a professor noticed my skills, urging me to stick with Spanish and began talking with me about linguistics, mostly phonetics. I was fortunate enough to do a study abroad program in Costa Rica during undergrad where I made a lot of connections and became more advanced with my Spanish fluency. When I decided to challenge myself to get a masters, I wanted to stick with something that I had passion for because I knew it would drive me to finish. So, I stuck with language and eventually traveled back to Costa Rica to work on my thesis, focusing on the stigmatization of Afro-Costa Ricans based on language use and the lingering effects of political power on language maintenance among an underrepresented population.
What do you see as the overlap(s) between your linguistics work and your role as the Diversity and Inclusion Coordinator in the CCTS?
Initially, I think of the research that I conducted as part of my master's degree, and the role that CCTS plays in various research projects across the University. Health research is a newer topic for me, but embracing diversity and cultural differences is not. The opportunity to mix the two, so to speak, was an interesting avenue for me and has offered me the career challenge that I need going forward.
In addition, having years of experience working in communities of color and using my linguistic tools to advocate for these communities brings an eclectic set of skills to the table for the CCTS when it comes to implementing diversity initiatives, using inclusive language during the hiring process, and having the cultural competency to advise researchers with strategies that successfully engage with diverse communities.
How did your work with the Migrant Education Program influence your career interests/priorities?
Working with the MEP really set a standard for me in a sense that I love doing gratifying work. I think this certainly became a top priority for me with regards to my employment. I feel like in this position, I have an opportunity to be involved in work that will positively impact my community and other communities of color.
What are you most looking forward to as the Diversity and Inclusion Coordinator with the CCTS?
I am looking forward to expanding our work, and having more of an impact, with high school students regarding health equity research. I believe that a true pipeline of recruiting and training these researchers is necessary. I want to make an imprint on this Center and help build something that truly begins to identify these talented researchers at a younger age and ultimately helps to build health equity as a pillar of medical research.
 
Do you have any thoughts about the relationship(s) between the humanities and health/medical sciences?
Given the history of the relationship between healthcare and the Black community, I know that we have a long way to go in terms of earning trust and really being able to positively affect healthcare outcomes in this community. As a member of this community, my hope is to advocate for strategically engaging the community to start bridging health equity gaps.