CLIK Participant Opens New "Healthy Mile" Walking Trail in Perry Co.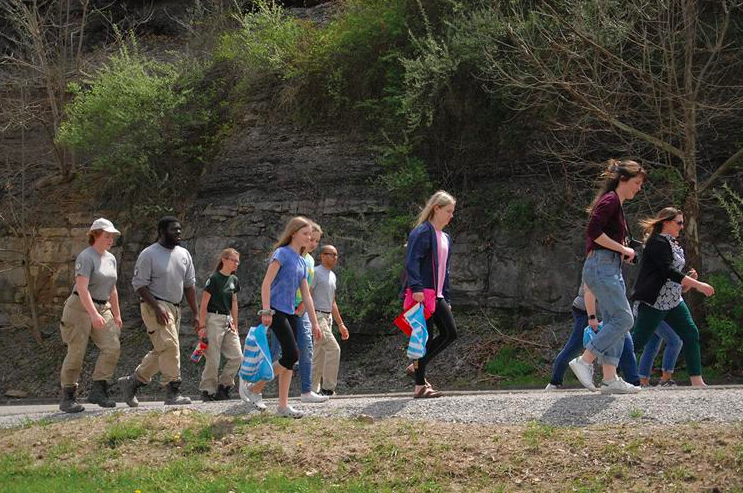 Hazard, Ky. (April 26, 2019) - Students from Hazard Independent in Perry Co. recently inaugurated a new walking trail in their the community, a mile-long path between the library, local shopping outlets, and health care providers. 
The "Healthy Mile" trail was designed and developed by Ben Braman, a volunteer with the Perry County Wellness Coalition, during his participation in the Community Leadership Institute of Kentucky (CLIK). CLIK provides intensive training and a small grant to supports local leaders develop projects that benefit their community's health.  The program is offered by the UK Center for Clinical and Translational Science (CCTS), the UK Center for Excellence in Rural Health (CERH), and the Kentucky Office of Rural Health. 
"This is a project that started with a grant from the Community Leadership Institute of Kentucky, it's based out of the (University of Kentucky) Center for Rural Health here in Hazard," Braman told the Hazard Herald. "It's a grant anyone in the community can apply for and the funds go towards any type of activity, program or project that can benefit the community in a healthy way." 
Walkers can access the trail in front of the Appalachian Regional Health Medical Mall. The trail then crosses through the mall's vascular testing center and continues to a safe crosswalk across from the library.
"The nuts and bolts of it are finished," Braman said. "This walking loop is open, it's safe. We have speed bumps and crosswalks. It will progress over time with benches, some landscaping, and hopefully, some sponsored fitness stations along the route."
Braman was recently nominated for a Community Engagement Award from the CERH and the UK Center for Appalachian Research in Environmental Science in recognition of his excellence in championing hiking trails and improving the built environment in Perry County.
Watch local TV station WYMT interview Braman about the project and trail. »
Read the Hazard Herald article about Braman and the trail. »