COVID is still among us, so we still need masks and proper hand-washing. :)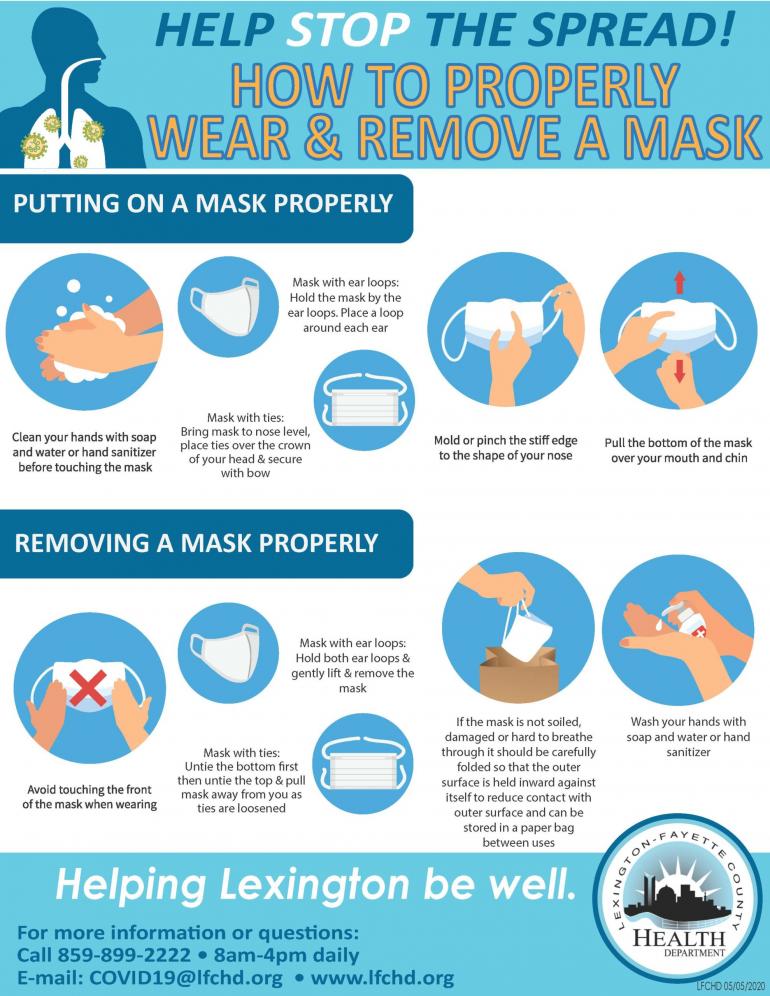 ---
Kentucky Resources
COVID-19 Hotline:
1-800-722-5725
---
Local Resources for Food, Household Items, and Other Necessities 
Community Action Council
Distributes diapers, baby wipes, baby formula and feminine hygiene products. For assistance, contact:
           Fayette Co.: English 859-699-3198;
                                 Spanish 859-684-2256
                                           or 859-693-9828
           Madison Co.: 859-353-8269
           Nicholas Co.: 859-289-7172
           Harrison Co.: 859-234-2121
LIHEAP Crisis has been extended through April 30,2020. Households with a late or disconnect notice in the counties of Bourbon, Fayette, Harrison and Nicholas should call 859-233-4600.
Application Assistors are available to assist individuals and families with Medicaid applications. Those in need of assistance should call 859-233-4600.
This is a non-profit organization that serves 50 counties across Kentucky
The organization has a list of local food banks across Kentucky counties
REGIONAL RESOURCES
This non-profit organization is providing various services to the Appalachian Region in response to COVID-19 including offering help to those who need masks and similar services. Please check what is being offered by clicking the link to Aspire Appalachia above or by calling (606) 332-2022.
---
Resources for Parents 
 
Provides free educational resources to assist families with home schooling
Mattel is offering multiple play-from-home resources, information and tips for parents and caregivers to encourage their kids to keep playing during this time of crisis.
Dolly Parton will be reading children's bedtime stories from her favorite storybook collections every Thursday at 8:00pm. The series is available through the link and is scheduled to run through early June.
---
Health Resources 
NATIONAL
Information is provided on Special Enrollment Period for health plan coverage that may be available to people who have lost or anticipate losing employer-based health coverage due to COVID-19.
The Patient Assistance Network (PAN) provides some resources for coronavirus-related expenses among patients with other chronic diseases. More information can be found on who qualifies and the type of assistance offered. 
Through this program, Pfizer connects eligible patients to programs that may assist with healthcare expenses through help with copays and provision of certain medications for free. 
LOCAL
Kentucky.gov provides information on health benefits available to Kentuckians affected by the Coronavirus pandemic. 

Benefind: Information regarding public assistance programs and links to make access to the programs are provided on the benefind website (https://benefind.ky.gov) or can also be accessed through the call center at 1-855-306-8959.   

For Medicaid information and assistance, call the Kentucky Healthcare customer service line at 1-855-459-6328 or contact an application assister through the Kentucky Health Benefit Exchange website at https://healthbenefitexchange.ky.gov/Pages/index.aspx
REGIONAL
Offering drive through services. More information about services offered can be found using the link to the website or you can call directly : (606) 439-1559
Offering drive through testing for COVID-19
Offering provide free drive-thru COVID-19 testing
---
Mental Health Resources
 
NATIONAL
Offers tips to support adults to cope with stress as well as tips for parents to recognize and reduce children's anxiety
The link provided is to a webpage with multiple resources available to support mental health.
The article, "Managing Your Coronavirus Anxiety: Advice from a Clinical Psychologist" provides tips that are useful for managing anxiety during these unprecedented times.
LOCAL
Every Tuesday:  Gentle Chair Yoga @ 1:00
Every Wednesday:  "Healthy You Healthy Me"  Book Read  @ 10:00 ( April 15 & 22 @ 9:00)
Check the website for additional event information.
---
Mortgage Relief through the Unemployment Bridge Program
The Unemployment Bridge Program (UBP) provides mortgage relief to people who have lost their jobs, or who have had a reduction in income because of reduced work hours or a qualifying disability.
UBP is a Federal Program administered by Kentucky Housing Corporation (KHC), the state housing finance agency, and REACH is a participating agency for the program.
Learn more by visiting the Unemployment Bridge Program at http://protectmykyhome.org/Pages/default.aspx
You can also contact Alyssa McKee with the REACH program by calling the office at (859) 455-8057, extension 22, or by email at amckee@reachky.com