Study Examines Pandemic Impact on Suicide Attempt Survivors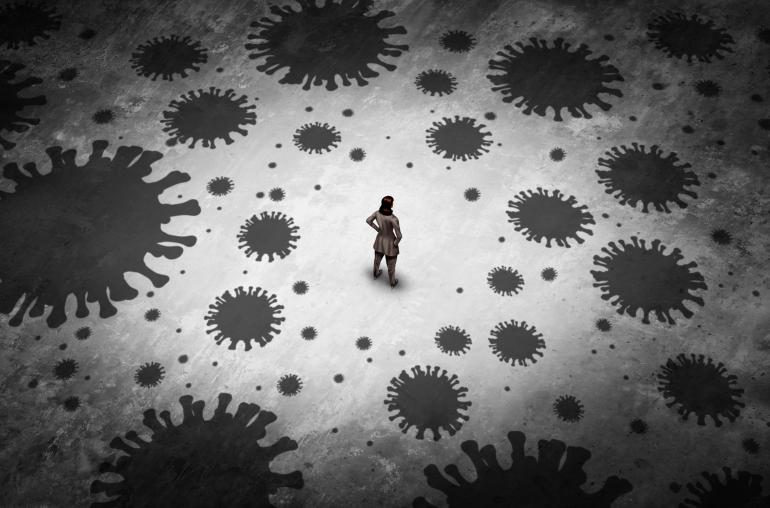 LEXINGTON, Ky. (Jan 27, 2022) – When the pandemic hit, suicide researcher Julie Cerel had a lot of questions about how the crisis would impact mental health, especially for people with a history of suicide attempt. Some experts were predicting an extra 75,000 "deaths of despair", as suicide is often called, but at least one popular media article by a writer with mental illness suggested that her previous experience with severe distress provided a protective factor during the global crisis—it was not her "first rodeo."
Cerel, a clinical psychologist, professor in the UK College of Social Work, and national leader in suicidology, suspected the truth might be somewhere in the middle of these two extremes.
"We wanted to figure out where the reality was. Was the pandemic going to be catastrophic for people who've had suicide attempts or other mental illness? Or were those people actually more 'experienced' in navigating distress?"
To begin to answer this question, Cerel and her team, which included academic colleagues including UK clinical psychology doctoral student Martina Fruhbauerova as well as attempt survivors and advocates, launched a national survey with the support of a pilot grant from the UK CURE Alliance. The survey asked about recent mental health care, feelings of depression and despair, impact of the pandemic on functioning, and attitudes about overcoming the pandemic. Participants who indicated a history of suicide attempt were also asked open-ended questions about how those experiences might relate to coping with the pandemic.
Between May 26 and June 25, 2021, the study team collected 1,351 survey responses from adults across all 50 states; 159 respondents reported a history of suicide attempt. Analysis showed that while attempt survivors were not significantly more impaired by the pandemic than those without such history, survivors were three times more likely to visit a mental health professional, three and a half times more likely to contact a suicide hotline, and seven times more likely to be psychiatrically hospitalized.
"We found that attempt survivors were much more likely to have had engagements with some sort of mental health care, which told us that these individuals were really able to reach out and access resources," Cerel said.
Indeed, national data so far suggests that rates of suicide in the U.S. did not, on the whole, increase during the pandemic, as some feared would occur.
"Projections about a cross-cutting wave of dramatically increased suicidality haven't played out," Cerel said. "Our study suggests that there are likely better predictors of pandemic impact on a person than a history of attempted suicide."
The study team is still analyzing the qualitative responses to the survey (focused on resiliency and coping among attempt survivors), and planning a second survey phase to examine how personality factors impact willingness to engage in mental health treatment during the pandemic. Cerel also hopes their work can help inform the development of the national 988 suicide prevention line, scheduled to launch later this year as a parallel to 911.
This study was one of 12 pilot projects funded by the CURE Alliance and UK Center for Clinical & Translational Science to examine social science aspects of the pandemic.
"We just needed a small amount of funding to start asking these innovative questions of a novel population at a critical time, and this data will lead to so much more."

To view open RFAs and a complete list of grant categories available through the CCTS, visit our funding page. 
Media Contact: Mallory Profeta, mallory.profeta@uky.edu