SPARK Health Equity Research Training Program Now Accepting Applications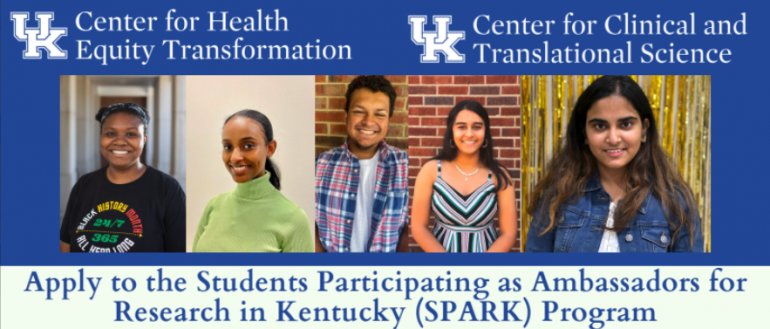 LEXINGTON, Ky. (Oct. 3, 2022) – The Students Participating as Ambassadors for Research in Kentucky (SPARK) Health Equity Training Program is now accepting applications from undergraduate students at the University of Kentucky and Kentucky State University.  The deadline to apply is October 31, 2022 and accepted students will receive a stipend.
Launched in 2019, SPARK allows undergraduate students from underrepresented backgrounds to get a jumpstart in learning about and conducting health equity research, beginning their first or second year of college.
Students accepted into the program are introduced to community-engaged research focused on health disparities/health equity and receive extensive mentorship from UK experts and community partners. 
After taking a series of research training workshops, students will write a small grant, operate a budget, develop a research protocol, adhere to human subjects and research integrity standards, and initiate community collaborations. Students will then work with mentors to implement their research project in their home community during the summer. Finally, SPARKlers are guided in data analysis and write-up so they can publish and present their research in professional settings. 
While hands-on experience and building their CV is important for future academic and employment prospects, most students can't afford to skip a summer of earning a wage. That's why SPARKlers receive a stipend of $5,000 for their summer research work, in addition to funding for the research itself. 
More information and applications instructions are available here.
Questions about the program? Check out these FAQs, or contact Ariel Arthur at ariel.arthur@uky.edu.
SPARK is a collaboration between the UK Center for Clinical and Translational Science, the UK Center for Health Equity Transformation, the Cardiovascular Disease Research Priority Area, Aetna Better Health of Kentucky, and the UK Office of Undergraduate Research.
Media Contact: Mallory Profeta, mallory.profeta@uky.edu