Johnson & Johnson Releases Results of Single-Dose COVID-19 Vaccine Trial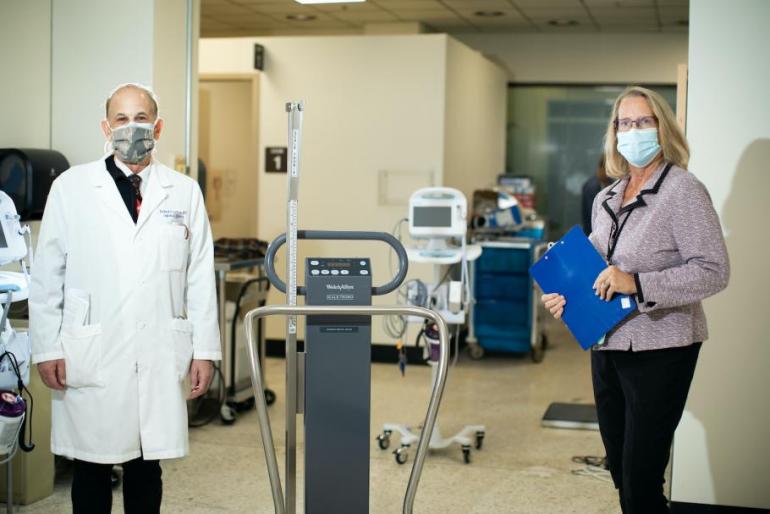 LEXINGTON, Ky. (Jan. 29, 2020) –   The University of Kentucky, in partnership with Baptist Health Lexington and Norton Healthcare in Louisville, participated as a site for the Janssen Pharmaceutical Companies of Johnson & Johnson's Phase 3 clinical research study, called the ENSEMBLE trial, to evaluate Janssen's investigational COVID-19 vaccine candidate, JNJ-78436735, also known as Ad26.COV2.S. The results of the trial were released today.
The Phase 3 randomized, double-blind, placebo-controlled clinical trial was designed to evaluate the safety and efficacy of a single vaccine dose of the Janssen investigational COVID-19 vaccine candidate versus placebo. Approximately 45,000 people participated worldwide. The combined UK, Baptist and Norton site was among the top enrolling sites in the world.
According to Johnson & Johnson's press release, which is available here, says their COVID 19 vaccine candidate is72% effective in the US against preventing severe to moderate COVID,  85% effective overall in preventing severe disease, and demonstrated complete protection against COVID-19-related hospitalization and death as of Day 28.
Janssen's investigational COVID-19 vaccine leverages Janssen's AdVac® technology. The same technology was used to develop Janssen's European Commission-approved Ebola vaccine regimen and is the basis for its HIV, RSV and Zika vaccine candidates. To date, more than 140,000 individuals have been vaccinated with a Janssen AdVac®-based vaccine or vaccine candidate.
"The most important effort to end this pandemic requires the cooperation and participation of many scientists, doctors, public health leaders, politicians, and the people of the world," said Dr. Richard Greenberg, UK principal investigator with four decades of vaccine development experience. "To have a chance to be a small part of the solution is not only an opportunity for the university but an honor for me. I thank the many people working so hard at all levels of this project—from those behind the scenes to all of our volunteers—because they know how important this to the world."
The UK Center for Clinical and Translational Science implemented the study at UK and served as the coordinating center for all the tri-hospital site. 
 
Media Note: Photos and b-roll provided by Janssen pharmaceuticals, as well as the original UK press release, UK press conference about the beginning of the trial, and UK press conference about the trial results, are available at  https://www.dropbox.com/sh/wm950akb2hxgwaa/AABIhscYrwDHr4ACT3PgAMxEa?dl=0.

Media Contact: Mallory Profeta, mallory.profeta@uky.edu