CCTS Presents Poster on Health Equity Research Training at NCATS Conference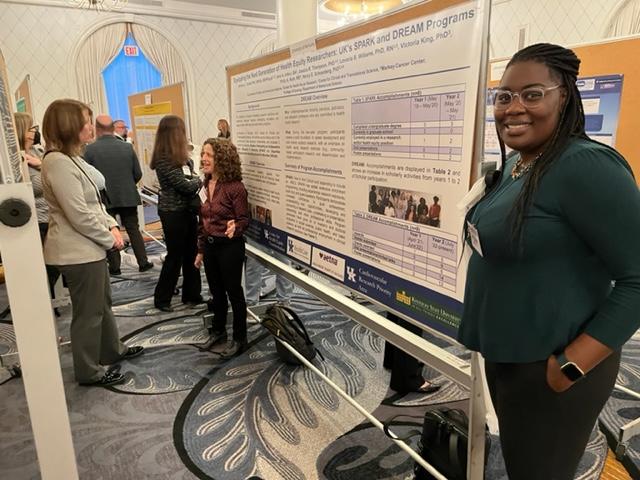 Dr. Brittany Smalls stands beside the CCTS poster on which she is the lead author. 
LEXINGTON, Ky. (Nov. 9, 2022) – Members of the UK Center for Clinical and Translational Science (CCTS) recently presented a poster highlighting their health equity researcher training programs at the annual National Center for Advancing Translational Science (NCATS) conference in Washington, D.C.
The CCTS poster showcased the aims and outcomes of the DREAM Scholars program, which trains pre-docs, post-docs and faculty, and the SPARK program, which provides training to undergraduates. Both programs involve an array of campus and community partners in order to foster upcoming generations of health equity researchers, particularly those from backgrounds that are historically underrepresented in biomedical sciences.
Authors of the poster are Brittany L. Smalls PhD, MHSA MSHPsych (Co-Director of DREAM), Ariel A. Arthur, BA (Center for Health Equity Transformation), Jessica R. Thompson, PhD (Center for Health Equity Research, Markey Cancer Center) , Lovoria B. Williams, PhD, RN (director for integrated special populations, CCTS), Victoria King, PhD (director of career development), Philip A. Kern, MD (director, CCTS), and Nancy E. Schoenberg, PhD (director, Center for Health Equity Transformation; associate director, CCTS).
Over the last two years the DREAM (Disparities Researchers Equalizing Access for Minorities) Program has trained nine Scholars who have earned a total of six extramural grant awards, submitted 14 funding applications, given or been invited to do 15 oral presentations, and presented 14 posters.
The SPARK (Students Participating as Ambassadors for Research in Kentucky) Program is now in its third cohort and has expanded to included students from Kentucky State University, which is an historically Black college. SPARK has also grown to include extensive enrichment programming, including experiential research exposures, book club, and guest speakers. Participants in SPARK demonstrate increased confidence in goal achievement, developing and conducting a research plan, undertaking a presentation, networking, and other professional skills. Program graduates have gone on to master's and doctoral programs in social science, public health, and basic science, as well as professional employment in clinical research positions.
Media Contact: Mallory Profeta, mallory.profeta@gmail.com