Acclaimed Historian and Author John M. Barry to Speak at CCTS Conference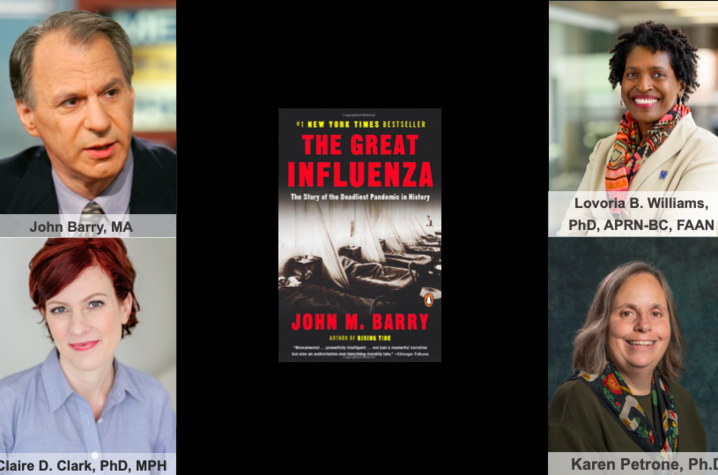 LEXINGTON, Ky. (April 7, 2021) — The University of Kentucky Center for Clinical and Translational Science kicks off its annual Spring Research Days today, beginning with a keynote panel featuring acclaimed historian and author John M. Barry at 1 p.m. His 2004 book "The Great Influenza: The Story of the Deadliest Pandemic in History" was a New York Times bestseller and named by the National Academies of Science as the year's outstanding book on science or medicine.
Barry's award-winning work has led him into public health policymaking at the international level. The only non-scientist on a federal government Infectious Disease Board of Experts, he served as an advisor to the Bush and Obama White Houses on pandemic preparedness and response and was on the team that recommended public health measures to mitigate a pandemic. He has worked with the private sector and with state, federal, United Nations, and World Health Organization officials on pandemics, water-related disasters, and risk communication. 
"The CCTS Research Day highlights and celebrates the considerable spectrum of translational science at UK and partner institutions.  This year, we hold this celebration in the shadow of the COVID-19 pandemic, and we are delighted to have a keynote panel discussion with author and historian John Barry," said Phil Kern, MD, director of the CCTS, who happened to have Barry as a high school football coach.
The keynote panel, which is co-sponsored by the UK Center for Humanities and Social Sciences (CHSS), will be moderated by Claire Clark, Ph.D., associate professor of behavioral sciences; Karen Petrone, Ph.D., professor of history and director of the CHSS; and Lovoria Williams, Ph.D., associate professor of nursing, endowed research professor in cancer health equity, and associate director of the CCTS.
"The Cooperative is pleased to partner with the CCTS and introduce author John Barry," said Petrone. "Barry's historical research into the 1918 influenza pandemic has demonstrated the ways in which public policy failures led to the spread of the epidemic and showed that the disease fundamentally reshaped public health infrastructures. Now, a hundred years later, as we are in the throes of another pandemic, we reflect on the lessons that were not learned and consider what long-term impact the pandemic might have on our public health infrastructure."
The CCTS Spring Research Days will convene on the afternoons of April 7 and 8. The event is free and open to all (registration required). Come and explore our virtual conference space, including:
A spotlight on our partnership with Joshua Paschal of UK Athletics to create health PSAs

A quiz to test your knowledge of the 1918 pandemic 

A chance to win a signed copy of our new research comic book

Comic caption contests 

Poster and oral presentations 

Mentor awards 
Media Contact: Mallory Profeta, mallory.profeta@uky.edu