In Memoriam: Dr. Susan Smyth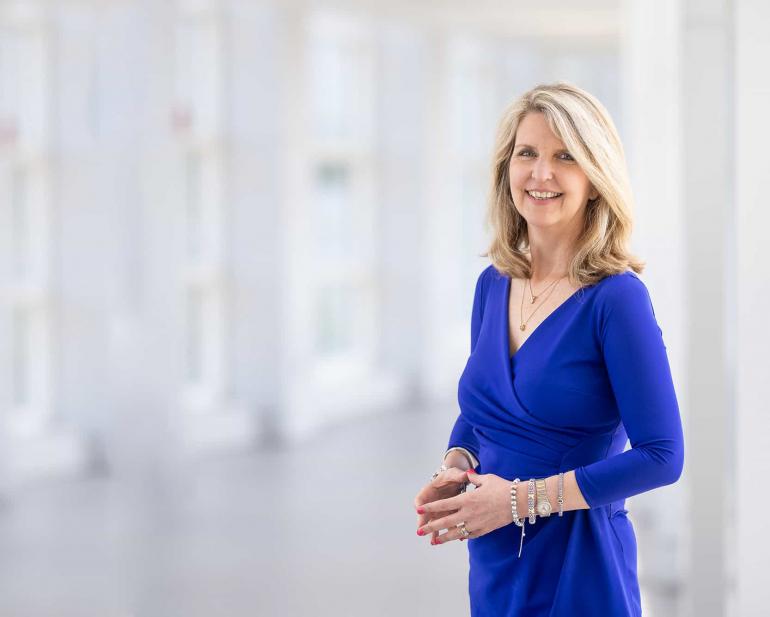 Lexington, Ky. (Jan. 26)— With much grief we share that national icon of translational research and medical education Susan Smyth, MD, PhD, died of cancer on Dec. 31, 2022, at the age of 57.
Dr. Smyth committed 15 years to the growth and prosperity of the UK College of Medicine and Center for Clinical and Translational Science (CCTS) before joining the University of Arkansas for Medical Sciences (UAMS) in 2021 to serve as dean and executive vice chancellor. She was a governor of the American College of Cariology's (ACC) Kentucky Chapter and a member of the ACC's Academic Cardiology Section Leadership Council. Over the course of her career, she authored more than 200 publications and contributed to over a dozen textbooks.
At UK, Dr. Smyth was the director of the Gill Heart and Vascular Institute, division chief for cardiovascular medicine, and the Jeff Gill Professor of Cardiology in the College of Department of Internal Medicine. She held joint appointments in behavioral science, pharmacology and nutritional sciences, and physiology.
Dr. Smyth also oversaw the UK College of Medicine's MD/PhD program for 11 years, was an attending physician at the Veterans Affairs Medical Center, and was heavily involved with the Saha Cardiovascular Research Center.
A leader in translational science, she served as a senior associate director for the UK Center for Clinical and Translational Science (CCTS), and director of its Graduate and Postgraduate Student Development programs. She also served on the CTSA Steering Committee for the National Center for Advancing Translational Science.
Lisa Tannock, vice dean for faculty affairs and development at UK, remembers Dr. Smyth as a "true triple threat" – an outstanding physician-scientist, a caring and compassionate clinician, and a fantastic educator who mentored many trainees and guided faculty to excel in career development.
It was that full resume that left a significant impression on CCTS director Philip Kern, MD, when he first came to UK for a job visit. Inspired by Dr. Smyth's enthusiasm, judgment, and knowledge, he knew he wanted to be at an institution that had people "as impressive as she was." Dr. Kern would go on to work with Dr. Smyth for many years at the CCTS. She continued to inspire him through her obtainment of National Institutes of Health grant funding related to thrombosis and inflammation, her leadership on many prominent projects, and her attentiveness to patients and colleagues.
"There were many occasions when I would call her from clinic – 'Susan, I have a patient who worries me and needs to be seen by a cardiologist' – and the patient would be seen that day," Dr. Kern said.
Specialty
As she built her own successful career, Dr. Smyth was also an advocate for her colleagues, continuously joining efforts to create additional professional development opportunities. Notably, she was a champion for the advancement of women, serving as a charter member of the Women in Medicine and Science (WIMS) Executive Committee and later leading or serving on multiple subcommittees. Along with WIMS founding chair M. Elizabeth Oates, MD, she helped the group create its inaugural three-year report to broadly showcase the success of the college's chapter.
Dr. Smyth is survived by her husband, Andrew Morris, PhD, professor in the UAMS Department of Pharmacology and Toxicology, and their sons Edward and William.
Her life was tragically cut short, but her work has left a lasting impression at UK and beyond through everyone who was fortunate to have worked with her.