DREAM Program Announces Third Cohort of Scholars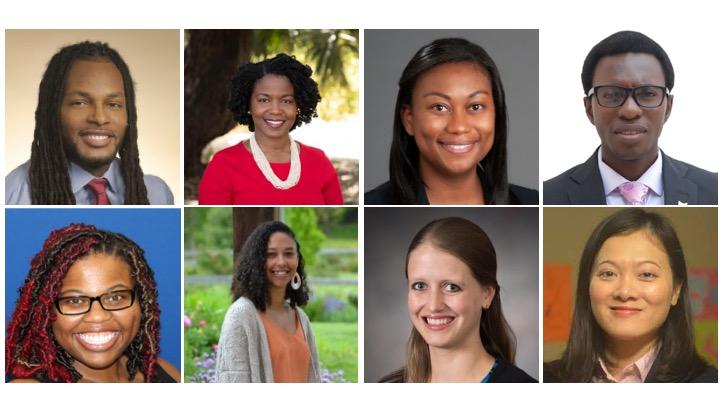 LEXINGTON, Ky. (July 31, 2023) – The Disparities Researchers Equalizing Access for Minorities (DREAM) Scholars Program has named its 2023 cohort, including eight individuals from five UK colleges.

The mission of the DREAM Scholars program is to promote the career development of exceptional, diverse pre-docs, post-docs, and assistant professors who are committed to health equity research. Kentucky is among the states with the worst health outcomes in the nation. Health disparities are particularly noted among rural, Black, Hispanic and lower socioeconomic populations. Developing a cadre of health equity focused researchers will advance health equity among these populations in the Commonwealth and beyond.
During the two-year DREAM program, Scholars receive intensive career development and human subjects research training with an emphasis on health equity research methods (e.g. community-based participatory research and dissemination and implementation science). Each Scholar works with a mentor to create an individual development plan, while the community of other Scholars provides exposure to multidisciplinary research and translational science.  Pilot funding and conference travel support are provided as well. The previous two DREAM cohorts included a total of 19 Scholars.

Lovoria Williams,  PhD, RN, and Brittany Smalls, PhD, MHSA, MSHPsych, the DREAM Program director & assistant director, respectively, state that the impact of the program among previous Scholars includes prolific scholarly output such as publications, grant submissions and NIH funding, dissertation completion, faculty promotion and the attainment of leadership roles. Importantly, the program helps to expand Scholars' social and scientific networks and foster a sense of community that contributes to faculty retention.

The DREAM Scholars Program is led by the UK Center for Clinical and Translational Science in collaboration with the UK College of Nursing and the UK Center for Health Equity Transformation. Additionally, the UK College of Medicine Department of Internal Medicine sponsors one Scholar position, and the UK Markey Cancer Center sponsors two.
The 2023 Dream Scholars are:
Cheavar Blair, PhD
Assistant Professor, College of Medicine
(Sponsored by UK Markey Cancer Center)
Shavonnie Carthens, JD
Assistant Professor, College of Law
Jillian Silva-Jones
PhD Student, College of Arts and Sciences
Morgan Jones, MD
Assistant Professor, College of Medicine
(Sponsored by UK Markey Cancer Center)
Anna Marie South, MD
Assistant Professor, College of Medicine
(Sponsored by Dept. of Internal Medicine, UK College of Medicine)
Xian Wu, PhD
Post-doc, College of Public Health
Rayven Peterson
PhD Student, College of Education
Tosin Leshi, PhD
Post-doc, College of Medicine
Media Contact: Mallory Profeta, mallory.profeta@uky.edu