CCTS Receives National Recognition for Team Science Training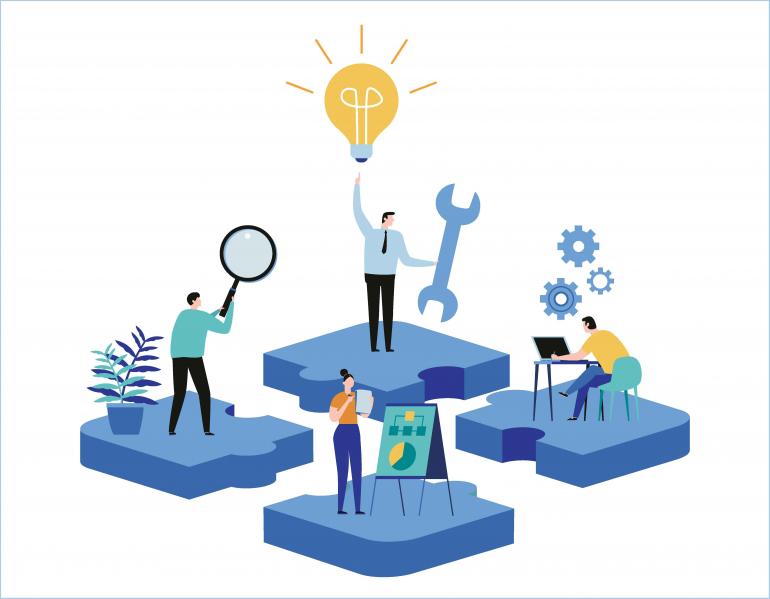 LEXINGTON, Ky. (Jan. 11, 2022) – Increasingly, research to improve human health requires multidisciplinary teams—from clinicians to bench scientists to regulatory experts and more—but, historically, researchers seldom receive in the art of team science. The UK Center for Clinical and Translational Science (CCTS) has been working to fill that gap and recently received national recognition for the team science curriculum it developed.
The Center for Leading Innovation and Collaboration, housed at the NIH National Center for Advancing Translational Science (which funds the CCTS), highlighted the UK CCTS team science training program in its Insights to Inspire series.
"When you do clinical and translational research, you need a team of people with very different expertise to carry out a study. The COVID vaccine trials we ran are a great example—they really took a village," said Vicky King, PhD, Career Development Director for the CCTS education and training core. "And our development of this team science training program was, ultimately, team science in and of itself—our team needed basic science researchers, environmental and community engagement researchers, education researchers and program evaluators."
King says the education experts in the group pointed to the necessity of a conducting a needs assessment to inform what should be included in the training. A 20-item survey was administered to a large group of early-career investigators and trainees; topics (including key competencies such as team formation, morale, orientation, assessment, management, and communication) judged by at least 40 percent of respondents to be of greatest interest were incorporated into content and workshop design.
While the training development team initially envisioned a curriculum based on 12 hours of in-person training, they realized that such a time commitment wasn't feasible—early-career investigators have a lot on their plates. The pandemic meanwhile forced the training into a virtual model. The program thus evolved into a series of four virtual workshops, each an hour and a half long, addressing team formation, communication, management, and morale. Supplemental online materials focused on team assessment and orientation (topics deemed slightly less important by the needs assessment data) were made available for independent learning.
Fourteen early-career faculty members participated in the first CCTS team science training cohort. Pre-post training surveys asked participants rate their confidence level in applying team science skills; post-training surveys also gauged training satisfaction, strengths of the curriculum, and areas for potential improvement. The survey scores showed substantial, measurable improvement in confidence related to team formation, team communication, team management and team morale, while conflict management emerged as an area of importance for additional training.
The CCTS education and training core designed this team science training program to be customizable based on group needs.  They're currently refining the curriculum for TL1 and T32  trainees, as well as customizing training focused on team effectiveness for research teams funded by UK's Igniting Research Collaborations program, which match-makes new interdisciplinary collaborations across campus.  
Impact and effectiveness of the team science training program will be measured by comparing productivity of IRC teams who received the training to that of past teams who did not receive the training.
It takes a team approach to teach team science, and it is great to see Dr. King and her colleagues develop a practical and timely program that accommodated the needs of early career faculty," said Philip Kern, MD, director of the CCTS.
This is the second time the CCTS has been recognized by CLIC for its education and training programs; the center was previously recognized for its DREAM and SPARK programs which train health equity researchers at the faculty and undergraduate levels, respectively.
Media Contact: Mallory Profeta, mallory.profeta@uky.edu
The UK CCTS is supported by the NIH National Center for Advancing Translational Sciences through grant number UL1TR001998.  This content is solely the responsibility of the authors and does not necessarily represent the official views of the NIH.