Working Towards Health Equity for All
A diverse and inclusive research enterprise is the only way to achieve health equity at the population level. We are actively committed to increasing the presence of underrepresented populations among both research workforce and study participants. Only by including the full spectrum of perspectives, experiences, and health profiles can we truly advance discoveries that improve wellbeing for all. Below are some of our efforts towards this end.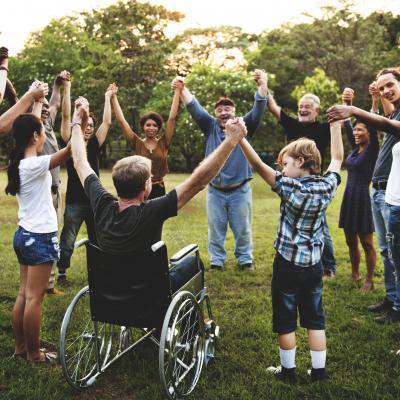 Inclusive health equity requires inclusive health research. We facilitate collaborative research among lay communities, community practitioners, and academic researchers to address complex health issues experienced by populations that experience disparities or have been historically excluded from the research workforce or research participation. Pillars of our Special Populations Research Core include:
The Disparities Researchers Equalizing Access for Minorities (DREAM) Scholars Program supports the training of exceptional under-represented minority pre-docs, post-docs and assistant professors who are committed to health equity research. Five Scholars and five Associates are chosen in each a competitive application process. The program, which lasts two years,  provides access to a solid foundation in career development and core human subject's research, with an emphasis on health equity research methods.
 
The SPARK (Students Participating as Ambassadors for Research in Kentucky) Program allows undergraduate students from underrepresented backgrounds to get a jumpstart in health equity research, beginning their first year of college.
Accepted participants, called SPARKlers, design, implement, analyze data, and present findings from a health equity research in their home communities with training and mentorship from UK experts and community partners. 
 
To address health needs of a community, health professionals and researchers first need meaningful relationships with the community. This is especially true when working with people who have been historically harmed, discriminated against, and neglected by healthcare and academic establishments—such as Black, Hispanic/Latine, and LGBTQIA+ groups.
The mission of the CCTS Community Advisory Board, or CAB, is to help meet the specific needs of people of color and LGBTQIA+ individuals by inviting them to give input on how to best address health needs of their communities, ensuring that health or research projects are collaborative—not extractive or exploitive.
 
---
We created WHY to help meet the growing needs of both minority communities and researchers seeking to address health issues in these communities. 
WHY conducts a yearly survey of self-reported symptoms, health behaviors, prevention practices, and access to care. Following this baseline survey, we offer members additional surveys depending on their answers to the initial survey. We then partner with scientists and investigators to help ensure our member's (confidential and secure) data can be used to understand all aspects of health.
​Inclusivity is a great way to improve the overall understanding of health. We value the differences among people because these differences can illuminate how health changes over time and varies among communities. We seek a diverse range of experiences and voices, which is why we need YOU to take action, and take part in Wellness Health & You.
 
---
Led by CCTS Community Engagement Co-Director Nancy Schoenburg, PhD, CHET's mission is to  enhance impactful, innovative, transdisciplinary research and training aimed at improving the health of vulnerable Kentucky residents. CHET also aims to grow health equity research at UK by training and providing professional development guidance to those interested in studying and addressing health disparities. Through research and training, CHET will increase the number of researchers at UK conducting health-equity focused research. Within the next five years, CHET will recruit new faculty members and postdoctoral scholars from across the nation, enhancing the strength of health equity research.