White Selected as Student Worker of the Year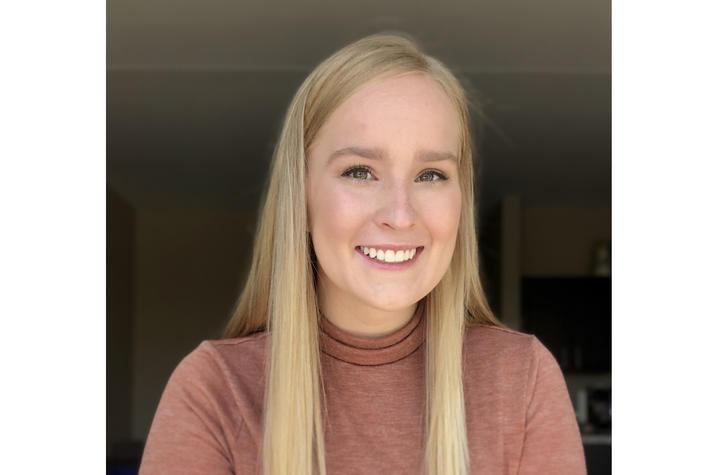 LEXINGTON, Ky. (May 21, 2021) — Ashley White, a University of Kentucky student employee of the Department of Physiology in the UK College of Medicine, is the recipient of the 2021 Student Employee of the Year award from UK Human Resources. 
White, a junior majoring in biology, was one of 10 finalists chosen for the award. White's initial job tasks included ordering supplies and managing lab inventory for programs focused on heart failure, but when a large project came in regarding COVID-19 testing, she stepped out of her comfort zone to help the team contribute to development of a field-deployable COVID-19 test.
The first step was to process 12,000 nasal swabs that had been procured across UK, said her nominating supervisor, Kenneth S. Campbell, director of the CCTS biobank.
"Only two employees on campus knew how to use the tracking software that managed the biobank inventory," Campbell said. "Ashley had learned about the software through her work on the cardiac biobank and was identified as someone who could potentially help as a third set of hands. She worked tirelessly over the summer to handle specimens, label tubes and distribute samples. It was a heart-warming team effort in challenging times, and we are glad to report that samples managed by the team proved pivotal to the development of a field-deployable PCR testing system that was just approved by the FDA."
Out of 50 applicants for this year's Student Employee of the Year award, White was identified as the top candidate based on her outstanding commitment to her work, her dedication to maintaining her grades and the greater impact she was able to make.
"Though much less experienced than other members of the team, Ashley quickly earned a reputation as a careful and reliable worker," Campbell said. "She also has excellent people skills and a positive can-do attitude." 
After her work with the initial swabs, White was transferred to work as a clinical coordinator during the Johnson & Johnson vaccine trials that the CCTS implemented.
While maintaining a 3.9 GPA and attending every lab meeting, White also spent at least 25 hours per week enrolling patients into the trial. She was one of few undergraduates involved in the project.
"This past year has been a battle for everyone, and as I learned about the amazing work the other nominees were doing as well, I was grateful to be selected," White said. "Here at UK, I always believe the goal is to strive for excellence, and to be honored as Student Employee of the Year, I can say that my efforts are on track. In my personal pursuits, I will look to this honor as a continued challenge to be better."
When asked what advice she'd give to other student workers, White said, "Challenge yourself within your job duties. Go beyond the expectations set by those who may have worked in your place before you. Don't be afraid to discuss with your mentor about new projects for you to lead and new opportunities to expand your abilities."
During a year when we all faced struggles, White led by example through the role she played in the university's history-making research. Campbell concluded, "She is a superb student, an extremely compassionate individual, and one of the heroes who has achieved and excelled despite the pandemic."
by Aviva Cantor