SPARK Program Gives Undergrads a Headstart in Health Equity Research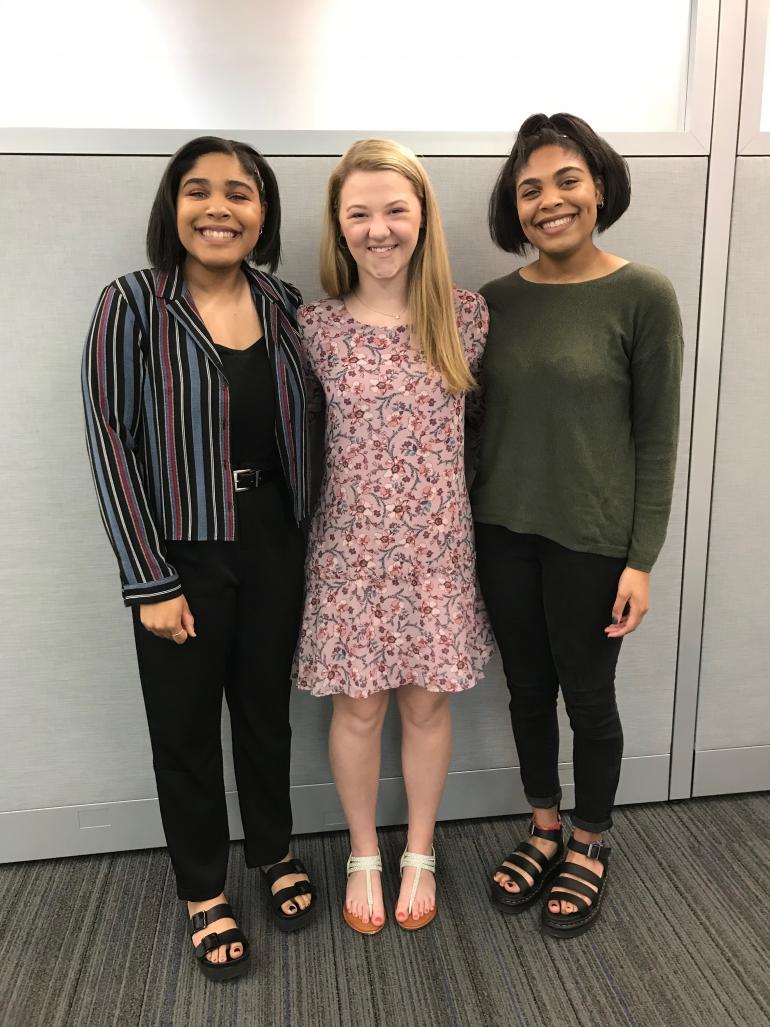 LEXINGTON, Ky. (Aug. 5, 2019) – A new program, Students Participating as Ambassadors for Research in Kentucky, or SPARK, will train undergraduate students from under-represented backgrounds in how to conduct health equity research. The program is a collaboration between the UK Center for Clinical and Translational Science, the Center for Health Equity Transformation, and the Office of Undergraduate Research.
Beginning their first year of college, accepted participants, called SPARKlers, design and implement a health research project in their home community, then analyze data and present their findings–-all with training and mentorship from UK experts and community partners. They learn how to write a small grant, operate a budget, develop a research protocol, adhere to human subjects and research integrity standards, collaborate with community members, and present their research at a large conference. The SPARKlers work with two faculty mentors in their research area and a community mentor.
A key element of the program is financial support for participants. While hands-on experience and building a strong CV is important future academic and employment prospects, most students—and especially those from underrepresented backgrounds—can't afford to skip two summers of earning a wage. SPARKlers receive a stipend for their summer research work, in addition to funding for the research itself. 
"SPARK is designed to ensure future research workforce equity and an expanded potential for young people to get involved with this kind of research," said Nancy Schoenberg, PhD, director of CHET and associate director of the CCTS.
In their first summer with the SPARK program, participants do intensive background work, including readings, documentary viewings, and discussions, all focused on health equity.  In their second year they take a Research 101 class and develop a full research proposal, and then spend their second summer implementing their project in their home community. In the beginning of their third year, participants work with mentors to write up their findings and are required to present at annual the CCTS conference.
Schoenberg emphasizes that the program benefits all stakeholders—the students, who gain skills, a professional network, and income; the communities, whose native residents bring home a funded health research project; and the university, which ends up with a more robust pipeline of health equity researchers who contribute to the land-grant mission of service to the Commonwealth.
"We are committed to improving diversity and inclusion in research at the University of Kentucky," she said. "Partnering on this opportunity earlier in the career pipeline is a long-term investment that we believe will reap tremendous benefits."
A pilot phase of SPARK is already underway with three participants.
"These three talented students have developed their research passion, defined a compelling question, read extensively, and attended several of our workshops. They all submitted and received approval for their IRB applications (within a month and a half!), met with their mentors, and arranged a budget. They all have excellent ideas and they're off and running. We've just now started training on data analysis," Schoenberg said.
The first three SPARKlers are:
Sidney Bibbs 
Project Title: An Examination of the Motivators and Barriers to Blood Donation Among African-Americans in Lexington, Kentucky
"I chose to participate in the SPARK program because I believe it will help me in my future career as a pathologist, as learning how certain health problems affect specific groups of people will allow me to make more accurate diagnoses. By the conclusion of this program, I hope to fully understand the importance of health equity and gain the knowledge and skills I need to do even more research of my own in the future."
Simone Bibbs
Project Title: The Role and Impact of Recovery Programs and Community Services on the Recovery and Reintegration of Survivors of Sex Trafficking
 "I chose to participate in the SPARK program because my major (psychology) is a very research-driven discipline and I wanted to gain as much experience as I could, as early as possible. Research was very intimidating to think about as a college freshman, so I took advantage of the opportunity to work with UK faculty who had experience and were willing to mentor undergraduate students. By the end of the SPARK program, I'm hoping to further develop my research interest and feel confident in my ability to pursue research in the future."
Hannah Bowling
Project Title: Identifying Facilitators and Barriers of Physical Activity in a Rural Trail Town 
"As an upcoming junior public health major at the University of Kentucky, I have an interest in research. When the opportunity came to participate in the SPARK program, I was more than eager to get more experience among the research field. My anticipation is to make a dent in improving the physical activity rates in southeastern Kentucky."