Ickes Selected as Comic Book Challenge Winner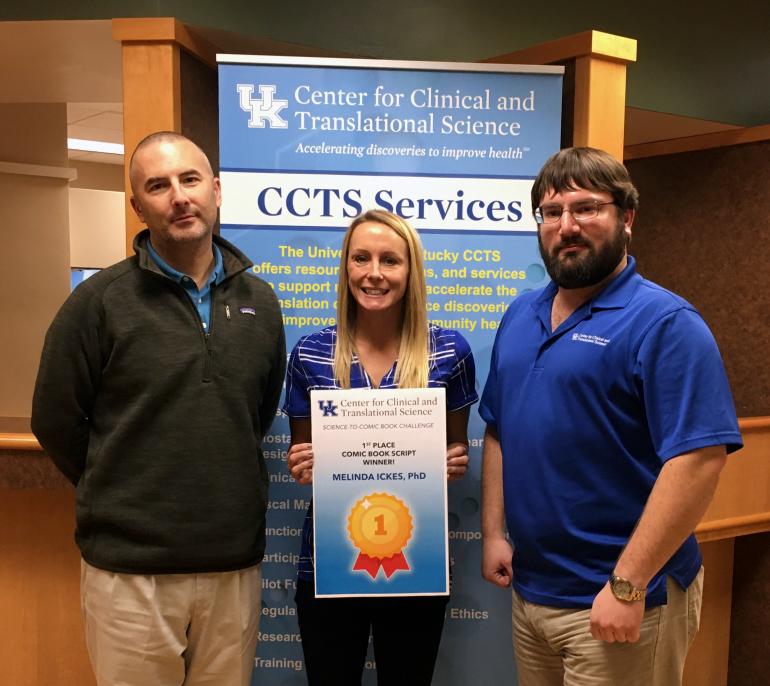 Ickes, center, was selected as winner of the CCTS Science Communication Comic Book Challenge. She is joined by Joel Thompson, PhD, research development director, and Bryan Sanders, marketing assistant and illustrator. 
Lexington, Ky. (Jan. 10, 2020) – The Center for Clinical and Translational Science has chosen a research paper by Melinda Ickes, PhD, as the winner of its first Science Communication Comic Book Challenge. Ickes' paper "Prevalence and reasons for Juul use among college students", which was published in the American Journal of College Health, will come alive in a comic book illustrated by CCTS marketing assistant Bryan Sanders, who has a background in comic illustration. The study was the first to investigate Juul prevalence and use among college students.
Joel Thompson, PhD, research development director for the CCTS, launched the comic book challenge after seeing examples of illustration used to convey data or disseminate scientific information to non-scientific audiences, including an illustrated consent form for patients undergoing angiographies.
"We need to speak to audiences in the way they need to receive information, which is not necessarily how we usually say it," Thompson said. "Illustration has always been part of the scientific world—look at every science or medical textbook. But with the comic book project, we're going from a single illustration to fully illustrated story."
Ickes is an associate professor and director of graduate studies in the department of kinesiology and health promotion in the College of Education as well as faculty associate and co-director of the Tobacco Policy Research Program of the College of Nursing BREATHE (Bridging Research Efforts and Advocacy Toward Healthy Environments) project. She applied to the comic book challenge in hopes of making her research available to all audiences and addressing rampant misinformation among young people about e-cigarette use.
"Thinking about innovative ways to disseminate my research has always been important to me. This also aligns with my scholarly and teaching practices in which I aim to find creative pedagogy approaches to reach young people," she said.
Her hope is that the comic will promote non-judgmental discussion of e-cigarette use across all ages.
"I believe the comic will enhance communication between adults and young people and allow them to have an open and honest conversation about the issue. I also think it's a great platform to talk about science and research with young people. We can reinforce how much fun research can be."
Ickes' proposal was chosen from among multiple applicants by a committee of people with experience with science and/or scientific illustration.
"All the applications for the comic challenge were based on already-published manuscripts so the science had already been scrutinized. Our task was to figure out which proposal lent itself best to illustration that could be impactful," Thompson said.
The comic will be debuted at the 2020 Lexington Comic Con Festival (March 26-29) and CCTS Spring Conference (April 21, 2020).
Media Contact: Mallory Powell, mallory.powell@uky.edu