High School Tobacco-Free Ambassador Program Receives Inaugural Community Engagement Award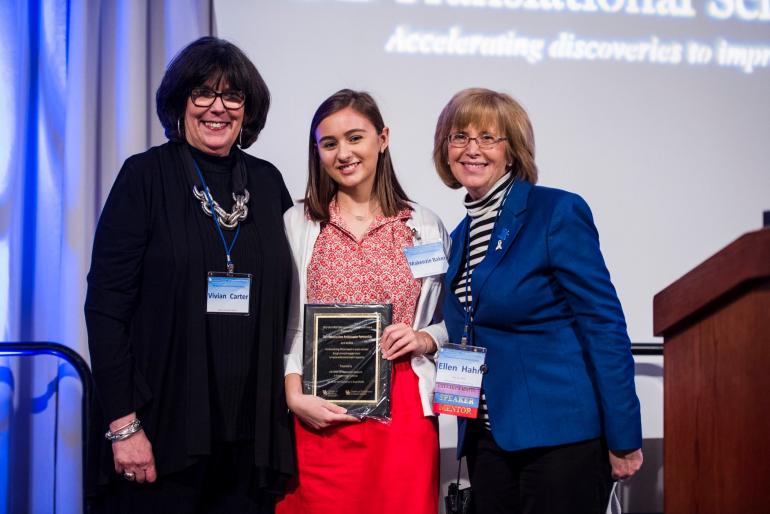 Lexington, Ky. (April 22, 2019) - The Hazard High School Tobacco-Free Ambassador Program (TAP) received the inaugural Community Engagement Award from the UK Center for Excellence in Rural Health (CERH) and the UK Center for Appalachian Research in the Environmental Sciences (UK-CARES).
A community-academic partnership, TAP includes 15-member Student Leadership Council at Hazard High School; mentor Vivian Carter, the district innovation coordinator and the Kentucky Valley Educational Cooperative (KVEC) student agency lead for Hazard High School; and Melinda Ickes, PhD, Associate Professor at UK Department of Kinesiology & Health Promotion.
The award recognizes their student driven-project to educate youth and community members on the health and environmental dangers of tobacco while also empowering them to advocate for effective smoke- and tobacco-free policies.
Their initial student survey to assess tobacco use at Hazard High school found that 29% used tobacco products and 31% smoked e-cigarettes. TAP then partnered with the local health department on a "#BeThe First" Tobacco-Free Generation campaign, including education banners, t-shirts, and bracelets and an invitation for students to sign a tobacco-free pledge.
TAP also produced a video interview with one of the pledge signatories, well-known community icon and long-time smoker Pauletta Smith, the beloved, retired band director for the Hazard High School Band of Gold, who had recently overcome addiction to cigarettes.  She was interviewed by a TAP student about her more than thirty-year smoking habit, her will power to her recover from cigarette dependence, and her new-found freedom.  Her testimony reached many after it was posted on the school website.  
Students in TAP have also gained experience presenting their work: In 2018, they hosted an "innovation station" at UK's Appalachian Research Day in Hazard and presented at the FIRE Summit in Pikeville.
TAP received the Community Engagement Award at the 14th Annual Conference of the UK Center for Clinical and Translational Sciences, and was presented by conference chair Ellen Hahn, PhD, RN, FAAN, professor and director of project BREATHE, deputy director of UK-CARES and leader of its Community Engagement Core, and the Marcia A. Dake Professor of Nursing in the UK College of Nursing.
Read the Hazard Herald's coverage of TAP and the award. >
Four other outstanding community projects were also nominated for the 2019 Community Engagement Award:
Ben Braman, volunteer from Perry County Wellness Coalition and participant in the Community Leadership Institute of Kentucky (CLIK), for his excellence in championing hiking trails and improving the built environment in Perry County
Dawn Brewer, assistant professor in the Department of Dietetics & Human Nutrition and director of the Community Engagement Core for UK's Superfund Research Center, for her excellence in collaborating with and educating communities to address Appalachian environmental health disparities
Sherrie Stidham, health educator from the Kentucky River District Health Department and CLIK participant, for her dedication to clean air for children and promotion of 100% tobacco-free campus policies
Martin County Concerned Citizens, University of Kentucky, Appalachian Citizens Law Center, including Nina McCoy, Mary Cromer, Ricki Draper, Courtney Marshall, Jason Unrine, and Wayne Sanderson, for their collaborative community-scholar engagement and dedication to improve Appalachian drinking water through their pilot study, Community-Engaged Appalachian Drinking Water Health Effects
"All of the nominees had excellent projects and we hope their participation in the community engagment award will help to elevate their messages and increase awareness of environmental improvement initiatives that are happening across the region," said Bowling, rural project manager at the UK CERH. "The UK CERH is honored to partner with UK CARES on this inaugural award because it is a wonderful opportunity to recognize people and groups who are leading the charge at the community level to address important environmental health issues in Appalachia. "