Cardarelli Named Director of Community Leadership of Kentucky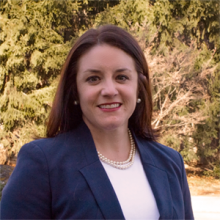 Lexington, Ky. (Oct. 5, 2018) – Kathryn Cardarelli, PhD, associate professor in the department of health, behavior & society in the UK College of Public Health, has been named director of the Community Leadership Institute of Kentucky (CLIK).
CLIK is a community-academic leadership development program designed to enhance research and capacity-building among community leaders, directors, and administrators.  The program is offered by the UK Center for Clinical and Translational Science (CCTS), UK Center for Excellence in Rural Health, and Kentucky Office of Rural Health. Since CLIK's inception in 2014, 22 community leaders have graduated from the program; their work has impacted 17 Appalachian counties and earned more than $70,000 in external funding and in-kind donations.
Cardarelli has extensive community-engaged health research experience and has served on CLIK faculty for many years. Her research interests include cancer prevention and health equity.
"I am excited to contribute to the impressive work of CLIK.  In order to mitigate the longstanding health inequities in Kentucky, we must continue building the research capacity of our community partners."
She assumes the CLIK directorship from Nancy Schoenberg, PhD,  community engagement co-director for the CCTS and Associate Vice President for Health Disparities Research, who has accepted the director position of the UK  Center for Health Equity Transformation (CHET).
"Dr. Cardarelli has bona fide community engagement research credentials, and is a constructive member of our time who maintains the highest standards of integrity. We could not ask for a more qualified individual to bring their passion and expertise to CLIK and the CCTS," Schoenberg said.
To learn more about CLIK, please visit the website.
MEDIA CONTACT: Mallory Powell, mallory.powell@uky.edu