Talbert Interviewed by KET Regarding Use of Artificial Intelligence to Predict Overdoses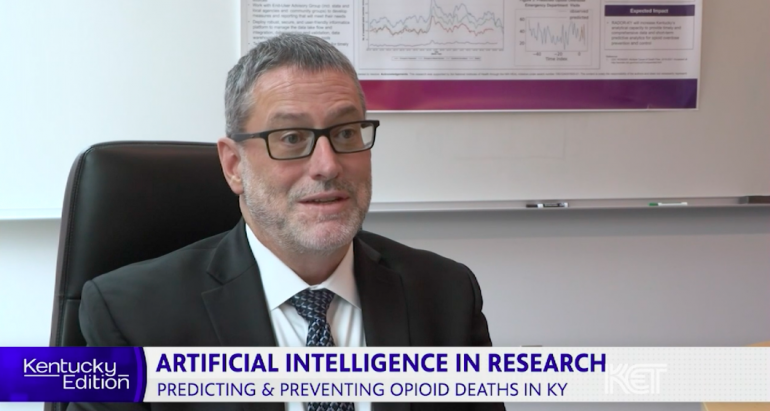 LEXINGTON, Ky. (June 23, 2023)  -  CCTS associate director and biomedical informatics director Jeffrey Talbert, PhD, was recently featured on KET's Kentucky Edition program to discuss the Rapid Actionable Data for Opioid Response in Kentucky (RADOR-KY) program. 
You can watch the interview here; Talbert's segment begins at the 15:00 mark. 
The innovative statewide surveillance system, which Talbert co-leads with Svetla Slavova, Ph.D., associate professor in the UK College of Public Health, will use advanced algorithms to rapidly process data and help predict potential overdose surges using artificial intelligence.
RADOR-KY pulls data from multiple sources, including the Kentucky Office of Vital Statistics, syndromic surveillance, emergency medical services, prescription drug monitoring, Medicaid claims, and drug seizure records. It will also track measures related to evidence-based practices such as treatment for opioid use disorder, overdose education and the distribution of naloxone, a life-saving medication that rapidly reverses an opioid overdose.
Phase one of the project is supported by a three-year $3.1 million grant from the National Institute on Drug Abuse (NIDA). An end-user advisory group, including partners in state government and local communities, will also guide the development of RADOR-KY. To advance the efforts to mitigate the opioid epidemic across the U.S. the team also plans to share programming code and algorithms in a public repository.
Driven by the COVID-19 pandemic and illegally manufactured fentanyl, drug overdose deaths in the U.S. increased to historic levels in 2021; in Kentucky, overdose deaths reached an all-time high of 2,250, with 90% of those deaths involving an opioid.
Read more about the RADOR-KY program here.