Fostering Collaboration and Mentorship between Health Equity Research Programs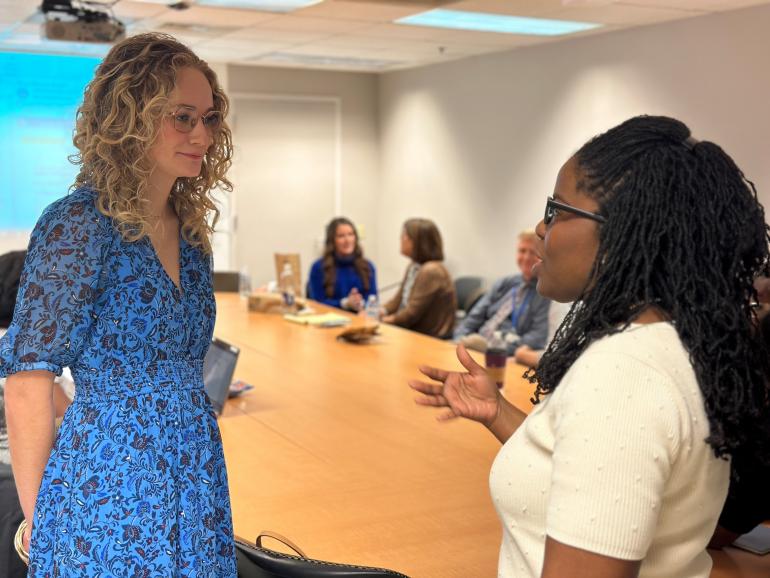 LEXINGTON, Ky. (Nov. 3, 2023) - Recently, participants in two of UK's prestigious health equity focused research development programs, SPARK (Students Participating as Ambassadors for Research in Kentucky) and DREAM (Disparities Researchers Equalizing Access for Minorities), connected and shared ideas surrounding health equity research.
The purpose of the SPARK program is to train a diverse cohort of undergraduate students at the University of Kentucky and Kentucky State University from traditionally underrepresented backgrounds and communities to conduct impactful research to improve health disparities. Students are introduced to community-engaged research focused on health disparities/health equity and receive extensive mentorship. They identify a research topic and work with their mentors to develop a project that they then conduct in communities over the summer, receiving funds to support their research. After implementing the project, students meet with their mentors, undertake data analysis and write-up, and present and publish their research in professional settings. The program is a collaboration of the CCTS and the Center for Health Equity Transformation (CHET). 
The DREAM Scholars Program supports the training of exceptional pre-docs, post-docs, and assistant professors who are from underrepresented backgrounds and are committed to health equity research. During the two-year program, participants receive a solid foundation in career development and core human subjects research, with an emphasis on health equity research methods (e.g. community-based participatory research and dissemination and implementation).   Each participant works with a mentor to create an Individual Development Plan, and the community of other scholars provides exposure to multidisciplinary research and clinical and translational science. The program is a collaboration between the CCTS, CHET, and the UK College of Nursing. 
It has been the goal of the CCTS and CHET to bring these programs together for the DREAM Scholars to provide mentorship and feedback on the health equity projects of the SPARKlers. Two SPARKlers, Carey Beth Smith and Jade Forest, presented their work-in progress and received feedback from current DREAM Scholars. CCTS Director Dr. Philip Kern, managers from both programs, and SPARK mentors also attended the meeting.