The Center for Clinical and Translational Science provides mentored research fellowships in clinical and translational science (CTS) for professional students.  This 12 to 18 month fellowship provides the student with a $3,000 stipend for participating in a CTS faculty mentored research experience.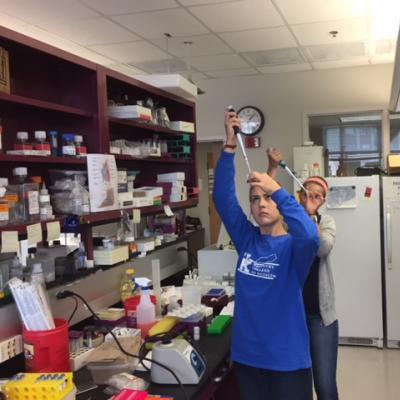 Eligibility:
Enrollment in a professional clinical training program, including MD, DMD, PharmD, Public Health, Clinical Psychology, Nursing DNP and Physician's Assistant Programs.  
Completion of the "Introduction to Clinical Research" (ICR) as a Summer Workshop or Fall Elective Course (MED 815).
Must be in good academic standing in your respective professional program.  
Program Details/Requirements:
The applicant and faculty mentor will develop a detailed research training program focused on an ongoing clinical and translational research project under the mentor's supervision.  
Research training is generally completed in a 12 month interval, although it is possible to extend the training to 18 months if consecutive summers are required.
All awardees are required to present a poster at the annual CCTS Spring Conference.
Program Application:
Applications are accepted in early January.
To submit an application, please contact Barbara Hurst (bghurs1@uky.edu) to obtain the link to the current PSMRF Application.
A sample application is provided as a template for project development with your mentor.  
Following review by the Advisory Committee, applicants will be notified of their status. 
Our Impact
378
Cumulative # of PSMRF Fellows
971
Cumulative Enrollment in ICR
1.5
Avg # of Publications per PSMRF Graduate
Workforce Development Office Senior Administrative Assistant

barbara.hurst@uky.edu
(859) 257-0539