CCTS creates its very first comic book!  Interested in getting a copy for you or your community/school?  CLICK HERE! >>>
A young college freshman struggles with nicotine dependence and overcomes adversity with the support of his friends, family, and peers.
 
LETTER FROM THE EDITOR- Joel Thompson, PhD
This comic is about the perception of electronic cigarette use amongst college students.  The data were collected using survey tools, distributed to incoming freshmen over several semesters starting in 2017.  The results were used to inform and update the current tobacco prevention strategies used by health education and health promotion experts on college campuses and K-12 classrooms.  
LETTER FROM THE WRITER- Melinda Ickes, PhD
I collaborated with college ambassadors to develop an e-cigarette youth prevention and empowerment program, which reinforced the need to think outside of the box when we are communicating with young people about issues that directly impact them. This comic book combines the passion I have for this topic, research we conducted to provide impetus for change in our own community, a storyline guided by wanting to support youth who have struggled with dependence on e-cigarettes and other substances, and the optimism that we can make a difference. I hope you enjoy the story and characters and I look forward to your feedback.
ADVENTURES IN RESEARCH @ 2021 CCTS SPRING RESEARCH DAYS EVENT
Several lucky attendees at the 2021 Virtual Spring Research Days Event entered to win a FREE comic book!  Winners will be announced soon!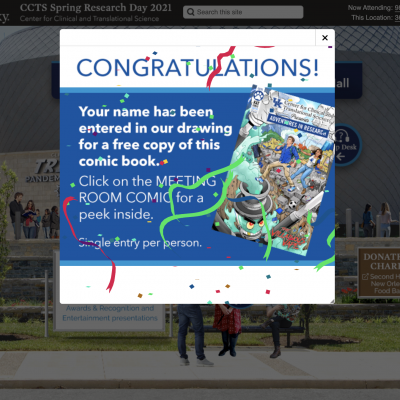 COMMUNICATING SCIENCE AND ENGAGING YOUNG IN E-CIGARETTE PREVENTION THROUGH COMICS
Learn More about the Process from the Development Team here:
Questions? Contact Our Team
Bryan Sanders

Creative Director

Bryan.sanders@uky.edu

Joel Thompson, PhD

Editor in Chief

Joel.thompson@uky.edu

Melinda Ickes, PhD

Writer

Melinda.ickes@uky.edu

Ashley Hall, MS

Developmental Editor

agtayl3@uky.edu