The Biomarker Analysis Lab (BAL)  performs sensitive plate-based assays not routinely run by the hospital clinical laboratory.  BAL has experience in diverse areas of research - nutrition, bone and mineral metabolism, diabetes, obesity, cardiovascular disease, oncology, endocrine function, infection, inflammation, stress hormones, etc.
---
Services include:
Method recommendation.

Budget estimates for grant preparation

Single- and multi-spot electrochemiluminescent immunoassays (Meso Scale)

Fluorometric, colorimetric, and luminescent assays (ELISA/EIA, activity assays)

Sample processing and banking

Referrals and coordination with other core labs
The Mesoscale Discovery (MSD) QuickPlex SQ 120 reads all MSD electrochemiluminescent immunoassays.
Full Service: You provide samples and BAL will do the rest.
Self Service: You purchase kits, assay samples, and bring to BAL labs for data capture.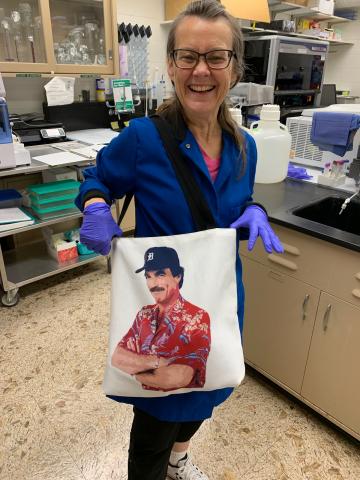 "Good day at work when your samples come in a Magnum PI bag!"
- Leta Hommel
   Manager, Biomarker Analysis Lab