Pilot Funding Available for COVID-19 Research in Health, Materials and Methods, and Social Sciences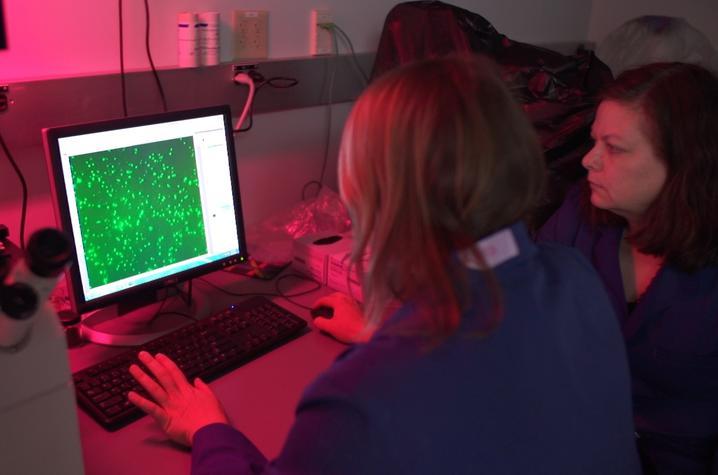 UK virologist Rebecca Dutch (right) with graduate trainee. Dutch is leading UK College of Medicine's CURE Alliance team, which is focused on advising COVID-19 patient care and clinical trials.
 
LEXINGTON, Ky. (April 27, 2020) – The University of Kentucky CURE Alliance, in collaboration with the UK Center for Clinical and Translational Science, has issued RFAs for COVID-19 funding in three categories: health, materials and methods, and social sciences. Full-time UK faculty in all title series are eligible to apply.
Priority will be given to projects that have a high impact on expanding knowledge or developing new knowledge on the COVID-19 pandemic and SARS-CoV-2. Ideally, these funds will be used to obtain preliminary data for an extramural grant submission related to COVID-19/SARS-CoV-2. Projects that do not directly address or relate to COVID-19/SARS-CoV-2 will not be considered within this solicitation.
There is no maximal dollar amount for these proposals. It is anticipated that some proposals will be submitted that require relatively small dollar amounts (i.e. less than $10,000) for targeted projects. Others may require larger amounts (up to $25,000) and clinical trials or long-term studies with animals may require more. Budgets will be scrutinized and highest priority will be given to small, efficient projects that will have a significant impact. Funds will be available for a maximum of six months from date of award and may be renewed with evidence of sufficient progress. Awardees will be asked for a brief final progress report at the end of project.
The UK CURE COVID-19 Pilot Program is a rolling submission format. Proposals are accepted until program funds are depleted; submissions are reviewed and awards made on an ongoing basis.
Full details are available in the RFAs:
If you have any questions, please contact Joel Thompson, CCTS Research Development Director, at joel.thompson@uky.edu or 859-323-7939.